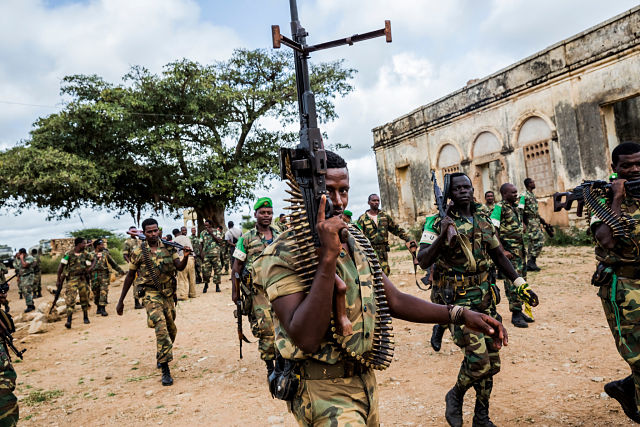 By JEFFREY GETTLEMAN
APRIL 6, 2015
NAIROBI, Kenya — They have lost their leader, their ports, their checkpoints and their territory.
They have lost thousands of men and much of their money.
They have no fleet of armored personnel carriers like Boko Haram's. Or poppy fields like the Taliban's. Or oil fields like the Islamic State's.
In the pecking order of the world's leading terrorist groups, the Shabab militants, based in Somalia, operate on a shoestring budget. But as the attack on a Kenyan university last week showed, they have become proficient in something terrible: mass murder on the cheap.
In the past two years alone, bare-bones Shabab teams of young gunmen have struck across Kenya, at a mall, on buses, at a quarry, in a coastal village and last week at a university, where four militants with rudimentary assault rifles killed 142 students.
In all, they have slaughtered hundreds of people and shaken Kenya, an economic powerhouse and cornerstone of stability in this part of Africa, with just a few men and a handful of light weapons.
Also at NYT: Kenya Bombs Shabab Training Camps in Somalia
—-
UPDATE: Son of Kenyan Official Identified Among Gunmen in Garissa Terror Attack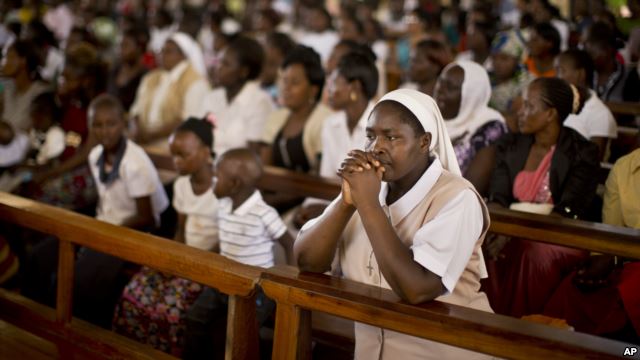 A nun prays during the service at the Our Lady of Consolation Church, which was attacked with grenades by militants almost three years ago, in Garissa, Kenya Sunday, April 5, 2015. (AP photo)
The son of a Kenyan government official was one of the masked al-Shabab gunmen who massacred 148 people at Garissa University College.
Kenya's Interior Ministry said Abdirahim Abdullahi was among four attackers killed Thursday during the attack. A spokesman said the government official had earlier reported his son missing.
The news came as Kenyans dedicated Easter Sunday services to the massacre victims and Pope Francis prayed for those killed by Islamist gunmen who hunted down Christians while sparing Muslims.
Many churches in Kenya hired armed guards to protect their Easter congregations. The country also began a three day mourning period.
Somalia president Hassan Sheikh Mohamud told VOA Somali Service on Sunday that Somalia-based al-Shabab is a regional enemy that needs to be confronted. He says al-Shabab's aim to target mostly Christians in Kenya is intended to separate Muslims and Christians, but he says that objective has failed as Kenyans understand the militants' tactics.
President Mohamud says al-Shabab "has no dignity" and can only attack "vulnerable targets." He told VOA there is nowhere in Islam that says"kill non-Muslims."
For the several hundred members of Garissa's Christian minority, which is fearful following the attack by the al-Shabab militants, Sunday's service was laden with emotion. The gunmen who attacked Garissa University College on Thursday singled out Christians for killing, though al-Shabab has a long record of killing Muslims over the years.
"We just keep on praying that God can help us, to comfort us in this difficult time," said Dominick Odhiambo, a worshipper who said he planned to abandon his job as a plumber in Garissa and leave for his hometown because he was afraid.
In Garissa, where masked gunmen in 2012 killed more than a dozen people in simultaneous gun and grenade raids on two churches, six soldiers guarded the town's main Christian church and about 100 worshippers ahead of Sunday mass.
"Thank you for coming, so many of you," Bishop Joseph Alessandro said to the congregation at Our Lady of Consolation Church. He said some of those who died in Thursday's attack would have been at the service, and he read condolence messages from around the world.
Video: Picking up the Pieces in Garissa After Terror Attack (VOA)

'Nowhere is safe'
"Nowhere is safe, but here at church you can be with God and console yourself," said Meli Muasya at Garissa's walled Catholic Church.
In Mombasa, "we are very concerned about the security of our churches and worshippers, especially this Easter period, and also because it is clear that these attackers are targeting Christians," Willybard Lagho, a Mombasa-based Catholic priest and chairman of the Coast Interfaith Council of Clerics (CICC), told Reuters.
Lagho said churches in the Indian Ocean port city of Mombasa were hiring armed police and private security guards for mass on Easter Sunday. Christians make up 83 percent of Kenya's 44 million population.
During a televised address Saturday, President Uhuru Kenyatta declared a three-day mourning period to begin Sunday, appealing to Kenyans to safeguard the nation's "peace and stability."
Kenyatta stressed his belief that "Islam is a religion of peace and tolerance." He said "the radicalization that breeds terrorism" is conducted "in the full glare of day."
Criticism of special forces
Also Sunday, Kenya's security chief defended the response by special forces to the attacks.
The French news agency AFP reported that it took at least seven hours for special forces to arrive at the scene of the massacre after flying from the capital, Nairobi, hours after other security personnel fought with the militants.
Some journalists who drove the same 365-kilometer distance are reported to have arrived before the special forces.
Several Kenyan newspapers on Sunday were strongly critical of the government's response.
"This is negligence on a scale that borders on the criminal," the Nation wrote in its editorial on Sunday, recalling how survivors said "the gunmen, who killed scores of students with obvious relish, took their time."
Interior Minster Joseph Nkaissery has said the attack was "one of those incidents which can surprise any country," while President Kenyatta paid his tribute to the three police and three soldiers killed, who paid "the ultimate price in their selfless service to Kenya."
But newspapers on Sunday were deeply critical of the government response.
But Foreign Minister Amina Mohamed defended the response, telling AFP on Saturday that "fighting terrorism … is like being a goalkeeper. You have 100 saves, and nobody remembers them. They remember that one that went past you."
Interior spokesman Njoka also dismissed the criticism.
"If you look at how we responded it was not bad at all, say, compared to Westgate," Njoka told the Nation.
"It takes time to assess and make the decisions, escalating it from National Security Advisory Committee to the National Security Council and then to scramble the elite units, get them to the airport and fly them to Garissa which is a two hour flight. There were many moving parts," he added.
Four masked militants from the Somali Islamist group stormed the university campus in Garissa on Thursday, seeking out Christian students to kill while sparing some Muslims.
Revenge attack
Al-Shabab group said the assault on Garissa, some 200 kilometers (120 miles) from the Somali border, was revenge for Kenya sending troops into Somalia to fight alongside African Union peacekeepers against the al Qaeda-aligned group.
The militants have threatened to turn Kenyan cities "red with blood" with more attacks. Police have stepped up security at shopping malls and public buildings in the capital Nairobi, and in the eastern coastal region which has been prone to al Shabaab attacks.
Kenya has imposed a dusk-to-dawn curfew in four counties along its 700-kilometer (420-mile) border with Somalia and deployed helicopters along its palm-fringed coast, popular with Western tourists and the scene of Islamist attacks in the past.
Coastal Region police chief Robert Kitur told Reuters extra uniformed and plain-clothes police officers had been deployed.
"What happened in Garissa must never be seen in Mombasa or anywhere else in the region and country," he said.
Late on Saturday, 613 students and 50 staff from Garissa University College arrived in Nairobi to an emotional welcome by parents and relatives. Parents of missing students attempted to identify bodies at the city's mortuary.
—
Some material for this report came from AP, Reuters and AFP.
Join the conversation on Twitter and Facebook.