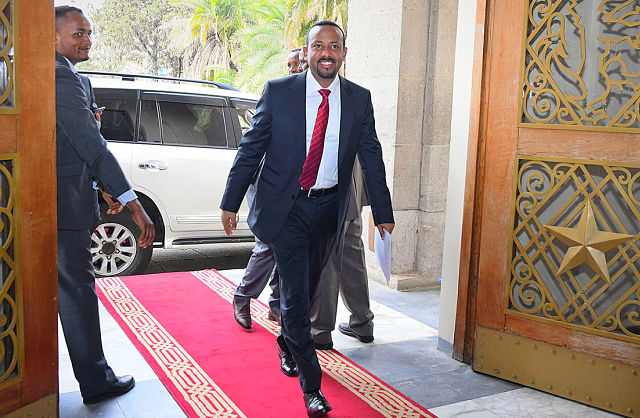 IN ITS three decades of existence, the ruling Ethiopian People's Revolutionary Democratic Front (EPRDF) has gone through only two leaders. Neither came to power through a competitive vote. So it was with a sense of novelty that Ethiopians awaited the outcome of a secret ballot held on March 27th to determine the new chairman of the coalition and, by extension, the country's prime minister.
The result was also historic. Abiy Ahmed (pictured) won the backing of 108 party bigwigs, while 59 went for Shiferaw Shigute, his closest rival. On April 2nd Mr Abiy was sworn in as prime minister, making the 42-year-old Africa's youngest leader. He will also be the first in modern Ethiopian history to identify as Oromo—from the largest, and lately the most rebellious, of the country's ethnic groups…
He takes office on a wave of goodwill. Taxis across Oromia are emblazoned with his photo. Activists abroad tweeted their support. Even in Addis Ababa, the capital, where locals are wary of his ethnic nationalism, there is optimism. In his inaugural speech Mr Abiy apologised for the government's killing of protesters. He called for unity and talks with opposition groups. And he promised to make peace with Eritrea, Ethiopia's long-standing enemy. "He sounded like Obama," gushes Asrat Abera, a resident of the capital.
—
Related:
In Ethiopia Internet Returns, Maekelawi Closed, PM Visits Jijiga on Peace Mission
Ethiopia's PM Abiy Delivers Hopeful Inauguration Speech (Video)
Herculean Task Awaits Abiy Ahmed on Human Rights in Ethiopia
Ethiopia Swears in New Prime Minister (AP)
Ethiopia Seeks Calm With a New Leader (The New York Times)
Ethiopia chooses new leader from protest-hit region (The Washington Post)
Ethiopia faces new prime minister in bid to calm protests (AP)
Ethiopia's ruling coalition approves Abiye Ahmed as prime minister (Reuters)
Join the conversation on Twitter and Facebook.