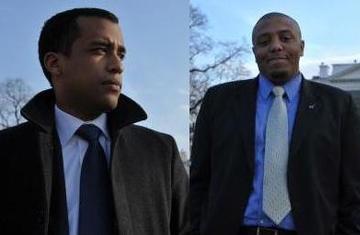 Above: 23 year-old Yohannes Abraham (left) and 28 year-
old Addisu Demissie (right). Photo – Marvin Joseph–The Root/
The Washington Post.
Tadias Magazine
By Tadias Staff
Published: Thursday, April 9, 2009
New York (Tadias) – The election of Barack Obama as President has empowered and expanded the visibility of minorities in political leadership. The Root, a daily online magazine published by Washington Post and Newsweek Interactive, has named two Ethiopian Americans on its list of 10 dynamic young leaders to watch for in Obama's Washington.
28 year-old Addisu Demissie and 23 year-old Yohannes Abraham are both graduates of Yale University. Both arrived at the nation's capital after being initiated into politics, in what The Root describes as "the grueling two-year campaign, counting delegates, crunching polls, spinning the press, working doors and phones, managing armies of volunteers, reaping millions of new voter registrations and logging thousands of hours working for change." Mr. Demissie is now serving as the National Political Director for Organizing for America, while Mr. Abraham is an Assistant to the Deputy Director of Legislative Affairs at the White House.
Mr. Abraham had joined the Obama presidential campaign in 2007 helping to win Obama's first victory in Iowa. He campaigned in South Carolina, Ohio, Mississippi, and North Carolina before becoming the Regional Political Director in the battle-ground state of Virginia, his native state.
Canadian-born Demissie had previously worked on Kerry's campaign and served as a key aide for Terry McAuliffe, before joining the Obama campaign and working as Get Out the Vote Director in Ohio.
Abraham and Demissie are cited by The Root as two of ten young Black Obama aides to watch in Washington Politics.
Read more at:
http://www.theroot.com/views/roots-talented-ten-yohannes-abraham
http://www.theroot.com/views/roots-talented-ten-addisu-demissie