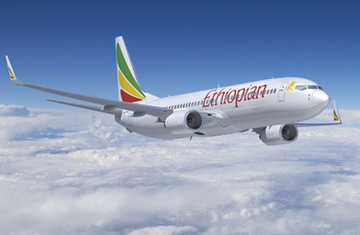 Above: Star Alliance will be getting a shot in the arm for their
global traffic into Africa, and the geographical position of ET's
home hub of Addis Ababa will help.
ETN
BATTLE FOR THE AFRICAN SKIES
BY WOLFGANG H. THOME, ETN | APR 08, 2010
Ethiopian Airlines is seemingly getting ready to finish discussions and negotiations with Star Alliance later this year, likely to coincide with the upswing in traffic carried via Addis Ababa to South Africa for the FIFA World Cup. These suggestions and rumors are now rekindled since the airline has confirmed added aircraft orders and is aggressively renewing its fleet in preparation of things obviously yet to come. The airline's Fokker 50 fleet is being replaced with more modern and larger Bombardier Q400s, with delivery of the first such aircraft reported here last week, and extra B737-800s are due to join the fleet from the middle of 2011 onwards. Read more.