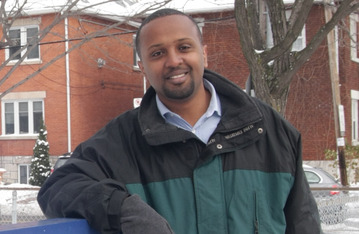 Above: Samuel Getachew faces two challengers in the fall 2010
election for City Council seat in Toronto to represent E. Ward 43.
Tadias Magazine
By Tadias Staff
Published: Thursday, April 8, 2010.
New York (Tadias) – Samuel Getachew, an Ethiopian-born Canadian citizen, has announced his candidacy for the 2010 City Council election in Toronto.
Mr. Getachew, 33, is seeking to represent Scarborough East Ward 43 in the eastern part of Toronto, a diverse neighborhood long known as a magnet for newly arriving immigrants to Canada.
Getachew says he is running because he believes in public service and would like to address the crime and housing issues in his district.
"Politics and public service at their very best give us a rare opportunity to connect with people in our community and discuss issues that benefits the public," Getachew said in an exclusive interview with Tadias Magazine. "Ward 43 has a large concentration of public housing; crime is a serious concern."
Mr. Getachew, who studied Political Science and History at Carleton University in Ottawa, and who is currently employed by the provincial government in Toronto, says the city needs to do more to keep children of recent immigrants away from crime.
"It is a very diverse neighborhood and people who live here include Sri Lankans, Tamils, Iranians, Chinese, and as I knock on doors, I often learn the reasons why most young people get into crime…it is a direct result of a broken government system. Often times, immigrants are allowed to come to Canada because of their educational and work qualifications, but are not able to find work in their field of expertise once they land here. They are often forced to work double shifts to survive and their children are forced to grow up without much supervision, making them vulnerable to criminal behavior."
According to Statistics Canada, a national census collecting agency, in 2006 Scarborough's population was over 600,000 with approximately 57% percent of the residents being foreign born immigrants. "Visible minorities" – a demographic terminology used by the statistical organization – constitute over 67% of the population. These groups include South Asians, Chinese, Filipinos, Black Canadians and others. Toronto, with a population of 2.48 million, is also home to a growing and active Ethiopian community. "The greater Toronto Area has upwards of 30,000 Ethiopian residents, " said Addis Embiyalow, Managing Director of Ethiopian Students Association International's 10th Anniversary Summit. "Most Ethiopians do not know about the vibrant, dynamic Ethiopian community here."
Mr. Getachew, who was born in Addis Ababa and arrived in Canada via Zambia, says his political ambitions began when he was volunteering within the Ethiopian-Canadian community.
"At age 17, I founded and hosted the first Ethiopian radio show in Ottawa and what an experience it was. I started a great conversation on the radio program at that very young age and it is a conversation that has not stopped after all these years," he said. "I interviewed personalities such as White House fellow Dr Meheret Mandefro while she was at Harvard pursuing her undergraduate degree, artist Senait Ashenafi when she was still on the show 'General Hospital,' as well as musicians Muluken Melesse, Ephrem Tameru and many others."
Mr. Getachew was an early proponent of naming a street in Toronto similar to the official Little-Ethiopia strip in Los Angeles.
"I was an advocate for Little Ethiopia and if Los Angeles can do it, I am sure a more diverse city like Toronto can do it as well," he says pointing out that the idea is still possible. "And when I win, I want to ensure that the people I hire in my office will reflect the residents of the ward. I want to ensure that we take advantage of our diversity. I know of so many people including Ethiopian Canadians who should be given that opportunity."
The candidate admits that compared to his challengers, he lags behind both in fundraising and organization. "I admit our campaign is the underdog at this time, both in money and grassroots support, but we have hope and we are determined," he said. "We will work hard to ensure that we meet all of our expectations, and we will win. I look forward to recieve the support of those willing to contribute to my campaign "
Mr. Getachew, however, is not the only contender with cash-flow problems. John Laforet, one of his opponents, recently warned his supporters that he maybe forced to quit for lack of funds. " I remain the only candidate that lives in the Ward, the only candidate stepping up to fight for the community and sadly the only candidate who could be forced from the race over a lack of financial support," he wrote on his blog. "Those who believe I would be a good Councillor need to get involved and take ownership of the fate of my campaign. Our community's future hangs in the balance."
Mr. Getachew still faces formidable opposition from the incumbent Paul Ainslie, who enjoys a superior campaign network and a wider name recognition. But he says that he feels confident that he can mount a worthy campaign of his own.
"I like to think our campaign as a movement. It is really a coming of age for our Ethiopian Canadian community here in Toronto and in many ways for all of Canada," he notes. "The position of Councillor gives one a very powerful outlet to advocate for true change and I know there are many people in this city who can truly help us achieve our objective. I believe I have a unique perspective of the diversity issues from a personal experience and I have a better plan than my opponents to tackle problems surrounding housing and crime issues."
The municipal election will take place on Monday, October 25, 2010.
—–
You can follow the 2010 Toronto elections at: www.toronto.ca/elections.
Samuel Getachew's campaign can be reached at 647 456 9690.
(Cover image: Courtesy Photo)