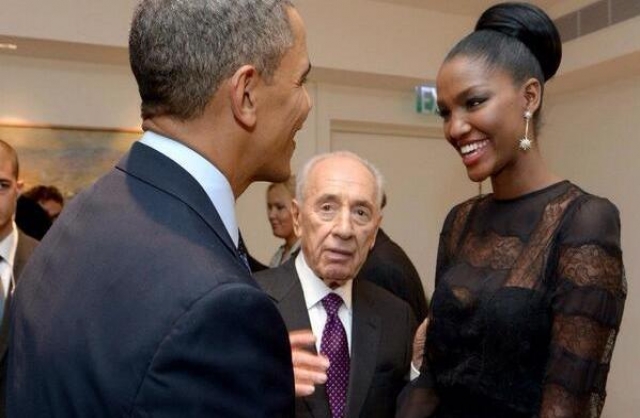 By Don Futterman
Yityish "Titi" Aynaw was crowned "Miss Israel" just in time to be invited to meet with President Obama on his first presidential visit to Israel. Titi is the first black "Miss Israel," and the first from Israel's 130,000-strong Ethiopian immigrant community.
Titi has a compelling story. She lost her father as an infant and her mother at age 10 while still in Ethiopia, and came to Israel to join her grandparents who had previously made aliyah. In one decade, she became an officer in the Israeli Defense Forces, returned to Ethiopia to discover her parents' story, and is now one of the most famous Ethiopian immigrants in Israel. A striking woman, at 5'9" and in heels, Titi towered over Israeli president Shimon Peres and even topped Obama.
Read the full article at The Daily Beast.
Watch: Yityish Aynaw — first Ethiopian-Israeli to win beauty title (Jewish News One)

—
Related:
Miss Israel Meets President Obama: CNN Video & Interview
Yityish Aynaw: First black Miss Israel will go to the ball (BBC)
First Ever Ethiopian-Born Miss Israel to Meet With President Obama (ADW)
Miss Israel 2013 is Ethiopian Immigrant (The Times of Israel)
—
Join the conversation on Twitter and Facebook