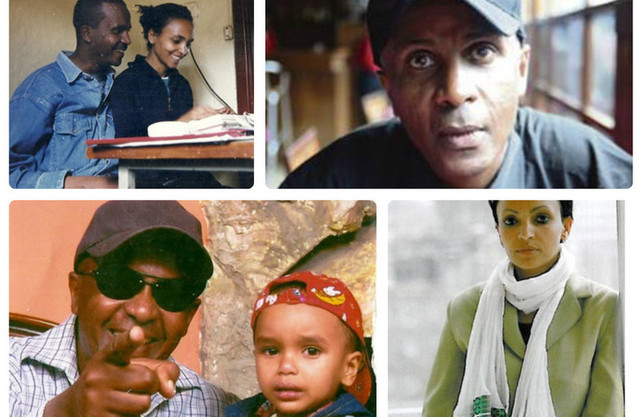 Tadias Magazine
Editorial
Updated: Wednesday, April 17th, 2013
New York (TADIAS) – In the early 1990′s when Ethiopian journalist Eskinder Nega was a young man living in the suburb of Washington, D.C., which is home to one of the largest populations of Ethiopian-Americans in the United States, he dreamt of one day opening an independent newspaper company in his native country. Unfortunately, two decades later Eskinder, now 45 years old, is languishing behind bars, locked away for 18 Years at Kality prison nearby where he was born and raised in Addis Ababa separated from his wife, 8-years-old son, profession, and branded as a terrorist.
Eskinder, who has been in and out of jail eight times since he returned to Ethiopia almost twenty years ago, stands convicted of attempting to subvert the country's constitution, which in principle affords its 80 million plus citizens all of the universally accepted due process guarantees and human rights — including that "no one can be deprived of his liberty for exercising his freedom of expression or being a critic of the government."
Last year around this time there was a glimmer of hope among Eskinder's compatriots at home and in the Diaspora rightly encouraged by the news that PEN America had awarded him its prestigious "Freedom to Write" prize. Tadias Magazine had the opportunity to attend and cover the ceremony on May 1st, 2012 at the literary organization's annual gala dinner held at the American Museum of Natural History in New York. We interviewed a number of people on camera including Eskinder's wife, Serkalem Fasil — herself a former journalist who gave birth to their son Nafkot in 2005 during her own stint as a political prisoner — who accepted the award on her husband's behalf, as well as her former cellmate the renowned Ethiopian opposition leader and former prisoner of conscience Birtukan Mideksa, who is currently in exile and a Harvard fellow in the United States. Both Serkalem and Birtukan's spirits were buoyed by PEN's success stories of advocating on behalf of those that are selected to be honored. Forty-six women and men have received the award since 1987; 33 of the 37 honorees, who were in prison at the time of their nomination, were subsequently released.
"International human rights law does not prohibit prosecution of members of terrorist organizations or those who support cooperate and assist terrorism by any means," Ethiopian authorities wrote to members of the European Parliament in February who had urged Prime Minster Hailemariam Desalegn back in December to consider the release of the imprisoned journalist. "Rather, it prohibits any form of discrimination and impunity of prosecution."
Since the Pen Award, however, impunity and unchecked power by a single party is what appears to be preventing officials from resolving the matter once and for all. Instead the ruling party agents have turned to a strategy of Chinese-style campaign, disturbingly similar to the attack against Ai Wei Wei — the contemporary artist and outspoken critic of the Chinese government. Eskinder's personal story mirrors Ai Wei Wei's in more ways than one. Both individuals had studied in America in their youth and returned to their birth countries to work. Both Ai Wei Wei and Eskinder turned to blogging as a means of expression, both were incarcerated for refusing to stop writing and asserting their right to self-expression. And both men had firmly decided to stay in their native country to continue their work despite the fact that unjust harassment was looming over them and they knew they were putting their lives at stake.
While Ai Wei Wei has received overwhelming international support from art institutions and human rights organizations, Eskinder's story hasn't reached the critical spotlight needed to win his rightful release.
The labeling of Eskinder as a 'terrorist' is designed to deflect criticism and to intimidate international agencies into covering their eyes and ears regarding domestic human rights abuses in Ethiopia. Meanwhile, local officials are busy exploiting the flow of financial assistance from the same donor countries that are eager to hunt real terrorists residing in the populous Horn of Africa region.
The Ethiopian authorities, of course, don't see anything wrong with the fact that the Federal Police seem to be habitually confusing a "pen" for a deadly weapon. Today, Ethiopia is listed among the top ten most censored countries in the world. The Committee to Protect Journalists (CPJ) that compiles the annual data, says the nation is one of only two African countries along with Eritrea that still holds the distinction.
In the last decade Ethiopia has shown an impressive potential for economic progress as well, but also mimicking China in downplaying respect for human rights. Without specifically mentioning Eskinder Nega, there has been a development of late in the Ethiopian parliament that is apparently aimed at fixing the general issue concerning freedom of expression in the country. But let us cross our fingers that this time it's not part of the fly-by-night and feel-good charm offensive intended to cloud the festering problem.
On the world stage, it is also encouraging to see the finding by the UN Working Group on Arbitrary Detention on Eskinder's ongoing detention as a violation of international law. The panel of five independent experts from four continents held earlier this month reported that the government violated Eskinder's rights to free expression and due process. The UN body called for Eskinder's immediate release following sustained lobbying efforts by his international pro bono lawyers and support by his friends in exile, including Birtukan Mideksa, who recently wrote a well received Op-Ed piece on Al Jazeera English highlighting her anguish over the muzzling of progressive Ethiopian voices.
As fellow journalists it too is our desire to bring this hard-fought momentum one step closer to the finishing line. We lend our voice in urging all freedom loving citizens of the globe to stand with Ethiopians in demanding the unconditional release of our colleague, the award-winning journalist, publisher and blogger Eskinder Nega.
—-
Related:
UN Finds Detention of Eskinder Nega Arbitrary and Calls for Immediate Release (Freedom Now)
Prisoners of conscience in Ethiopia by Birtukan Mideksa (Al Jazeera)
Letter from Ethiopia: Regarding The Case Against Eskinder Nega
Video & Photos: Eskinder Nega Honored With Prestigious PEN Award
—
Join the conversation on Twitter and Facebook