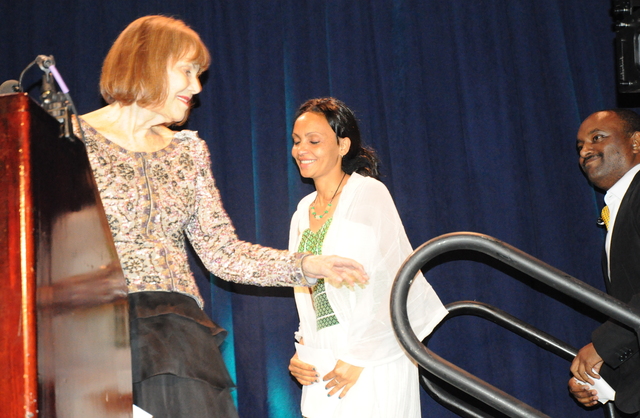 Tadias Magazine
By Tadias Staff
Updated: Wednesday, May 2nd, 2012
New York (TADIAS) – Ethiopian journalist Eskinder Nega was honored Tuesday evening with PEN America's prestigious "Freedom to Write" award at the literary organization's annual gala dinner held at the American Museum of Natural History in New York. Eskinder's wife Serkalem Fasil, who flew in from Ethiopia just hours prior to the event, accepted the award on her husband's behalf.
"I accept this award on behalf of Eskinder Nega at a time when freedom of expression and press freedom are at the lowest in Ethiopia," Serkalem said. Herself a journalist, Serkalem gave birth to their son behind bars while serving a 17-month sentence that began in 2005. "If Eskinder were standing here, he'd accept this award not just as a personal honor, but on behalf of all Ethiopian journalists who toil under withering conditions today: those who went into exile over the years…those in prison with whom he now resides."
The emotional ceremony was preceded with a short video about Eskinder Nega and his ongoing trial on terrorism charges in Ethiopia. PEN/America recognized Eskinder with the 26th PEN/Barbara Goldsmith Freedom to Write Award – a highly regarded accolade granted to international writers who have been persecuted or imprisoned for exercising the right to freedom of expression. Forty-six women and men have received the award since 1987; 33 of the 37 honorees who were in prison at the time they were honored were subsequently released.
"The award started twenty-six years ago because we were losing people, they would disappear, they would be tortured and we would never know where they were," Barbara Goldsmith, the benefactress of the award, told Tadias Magazine. "I and several other people decided that if we can turn a media spot light on people who are being arrested, maybe we can shame these nations into letting them out of jail." She added: "We have been wildly successful. We have given 37 awards and of those awards 33 have gotten out."
Ms. Goldsmith referred to Eskinder Nega and stated: "And in this case, that which is primary in our mind is to make sure that the international media pays attention; that's why we made the movie and we hope it will work this time the way it has always worked."
Serkalem told the audience that her husband is an advocate for press freedom. "Prison has been Eskinder's home away from home for the past two decades," she said. "He is persistent in demanding accountability and transparency in government. He is unflinching in demanding an end to corruption, but most of all he is a dedicated journalist."
—
Related:
Imprisoned Ethiopian Journalist Is Honored With PEN Award (The New York Times)
Ethiopian journalist honored with PEN America 'Freedom to Write' award (The Washington Post)
Jailed Ethiopian journalist Eskinder Nega honoured (BBC)
PEN Honors Jailed Ethiopian Journalist (Associated Press)