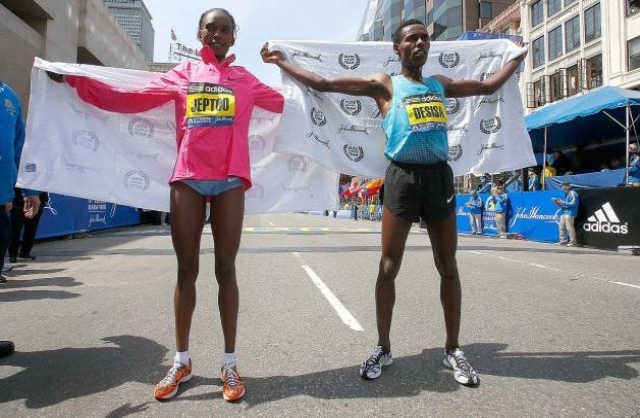 A strong kick won the Boston Marathon for Ethiopia's Lelisa Desisa.
Bunched up with two competitors with a mile left, Desisa pulled away in the last few blocks, winning the men's division Monday with a time of 2:10:22.
Kenya's Micah Kogo (2:10:27) and Ethiopia's Gebregziabher Gebremariam (2:10:28) finished second and third. American Jason Hartmann, of Colorado, finished fourth (2:12:12).
Click here to read more.
—–
Related:
After Finish, Bombs Shatter Boston Marathon
Tilahun Regassa wins Rotterdam Marathon

Tilahun Regassa of Ethiopia, pictured above in 2010, won the 33rd edition of the ABN AMRO Marathon in Rotterdam, Netherlands on Sunday, April 14th, 2013. (Photo: The Times-Picayune)
By Associated Press
ROTTERDAM, Netherlands — Tilahun Regassa led an Ethiopian 1-2 finish at the Rotterdam Marathon on Sunday, breaking away with 3 miles left.
He won the title in just his second marathon, finishing in 2 hours, 5 minutes and 38 seconds. That was 11 seconds slower than his personal best set in Chicago last year.
Regassa's countryman Getu Feleke was second for the second straight year in 2:06.45. Sammy Kitwara of Kenya finished third in 2:07.22.
Click here to read more at The Washington Post.
—
Related:
Ethiopian Gebrselassie wins Vienna half marathon (Bangkok Post)
Vienna City Marathon Results (San Francisco Chronicle)
Ethiopia's Gebre Gebremariam is a closely followed favorite (The Boston Globe)
—
Join the conversation on Twitter and Facebook