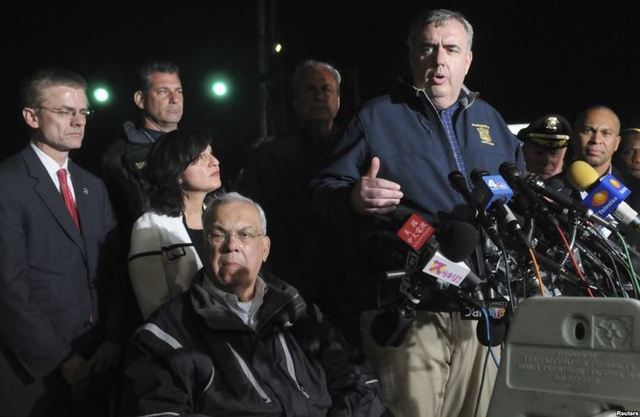 VOA News
Jim Malone
April 22, 2013
Nineteen-year-old Dzhokhar Tsarnaev now faces U.S. federal criminal charges in connection with last week's bombings at the Boston Marathon. If convicted, Tsarnaev could face the death penalty.
One week after the two bombings that wreaked havoc near the finish line of the Boston Marathon, Dzhokhar Tsarnaev was formally charged in a Boston hospital room, where he remains in serious but stable condition.
A statement from U.S. Attorney General Eric Holder said Tsarnaev is charged with using and conspiring to use a weapon of mass destruction that resulted in death. A second charge of malicious destruction of property by an explosive device resulting in death also was filed. If he is found guilty of the federal charges, Tsarnaev might get the death penalty.
Investigators reportedly have been questioning Tsarnaev, and he has been responding in writing. He is suffering from a gunshot wound to his throat. Officials say it is not clear if the wound was self-inflicted or came in the shootout with police in the Boston suburb of Watertown last week.
Tsarnaev's older brother Tamerlan died in that same shootout.
At the White House Monday, presidential spokesman Jay Carney said there is no doubt that Dzhokhar Tsarnaev eventually will face a trial in the civilian court system, and not through a military commission.
Images of Boston Bombing Suspects

"He will not be treated as an enemy combatant. We will prosecute this terrorist through our civilian system of justice. Under U.S. law, United States citizens cannot be tried in military commissions and it is important to remember that since 9-11 we have used the federal court system to convict and incarcerate hundreds of terrorists," said Carney.
Some Republican members of Congress have urged the Obama administration to designate Tsarnaev an enemy combatant for the purposes of more easily questioning him about his motivation for the Boston bombing, and whether he and his brother had links with terrorist groups.
Senator Lindsay Graham, a Republican from South Carolina, spoke to reporters at the U.S. Capitol shortly after the criminal charges were announced.
"I hope that the administration will look long and hard at the evidence and keep on the table the ability to interrogate this suspect for intelligence gathering purposes about future attacks that we may face," said Graham.
Boston Police Commissioner Ed Davis told NBC's Today program that law enforcement officials are still trying to find out why the brothers allegedly carried out the bomb attacks last week.
"We are satisfied that the two main actors, the people who were committing the damage out there, have been either captured or killed. There is still an open question as to exactly what happened in this investigation, and there are enormous investigative resources being poured into that right now," said Davis.
Experienced investigators say the authorities in Boston will try to learn all they can from Tsarnaev through a variety of techniques.
Vernon Herron is a retired major from the Maryland State Police, now with the Center for Health and Homeland Security at the University of Maryland.
"Everybody has certain triggers that will prompt them to give you information or not give you information," he said. "I have always found it easier to get information from suspects when you didn't go in heavy-handed and when you spoke with them in a calm voice and tried to build a relationship with them long before you started asking them incriminating questions."
Bostonians took part in a moment of silence Monday to mark the one-week anniversary of the bombing attacks that killed three and wounded more than 180 others.

—
Related:
Marathon Bombing Suspect in Custody After Standoff in Watertown (The New York Times)
Watch:

Visit NBCNews.com for breaking news, world news, and news about the economy
—-
Boston Bombing Suspects Put Chechnya in Spotlight (National Geographic)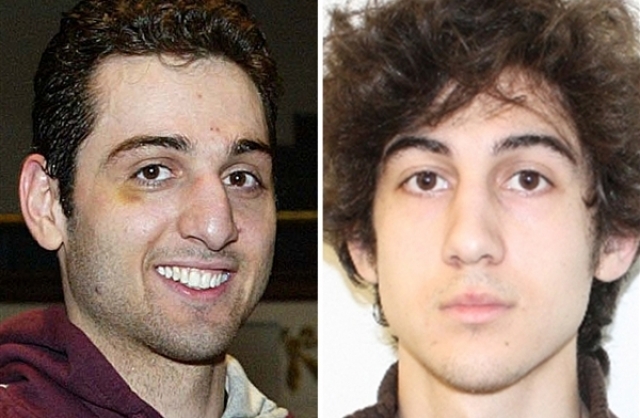 The two suspects in Monday's Boston Marathon bombings are brothers of Chechen origin who grew up in Russia's restive Caucasus region known for its history of ethnic and nationalist discontent. (Photo: AP )
By Anna Kordunsky
Published April 19, 2013
The two brothers suspected in the Boston Marathon bombings—one of whom is dead, the other provoking a massive manhunt across Boston on Friday—are Chechens who were raised in Dagestan and Kyrgyzstan before immigrating to the United States in 2002, according to news reports.
While nothing has yet been found linking brothers Tamerlan Tsarnaev, 26, who was killed by authorities, and 19-year-old Dzhokhar Tsarnaev to Chechen terrorist organizations, their ethnicity has once again directed attention to Russia's Caucasus region. (Read "Chechnya: How did it come to this?" in National Geographic magazine.)
The area occupies Russia's underbelly, situated between the Caspian and Black Seas, and has been a cauldron of ethnic and nationalist discontent for centuries.
Read more at National Geographic News.
—-
Related:
How the Name "Mulugeta" Got into Social Media Frenzy (TADIAS)
—
Join the conversation on Twitter and Facebook