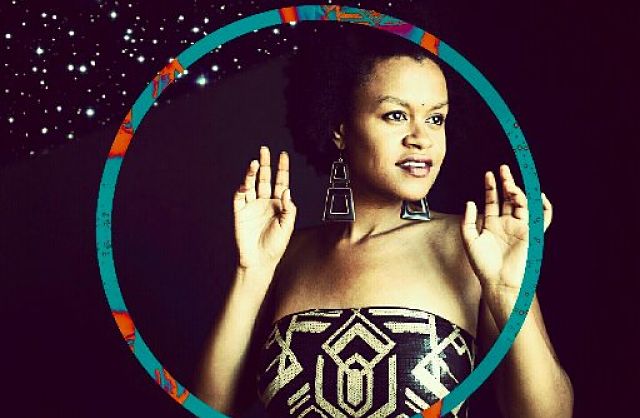 Ethiopian-American artist Meklit will release her new album When the People Move, the Music Moves Too on June 23rd with Six Degrees Records. The record was produced by Dan Wilson, whose previous work with artists including Adele, Taylor Swift and John Legend – as well as fronting the band Semisonic – has earned multiple Grammy awards. The album also includes Andrew Bird on violin and whistling, as well as New Orleans' Preservation Hall Jazz Band horns. A vibrant and inspired mix of Ethio-Jazz roots along with American pop, R&B and folk influences, Meklit's upcoming record crosses both musical and generational borders to create a unified artistic vision, united behind her unique and unmistakable voice.
When the People Move, the Music Moves Too is the result of a fateful encounter Meklit experienced in Addis Ababa with the legendary vibraphonist/composer Mulatu Astatke, who helped spark Ethiopia's 1960s musical renaissance. She was deeply engaged with his music at the time, but he pushed her to think about how to bring her own experiences into her songs. "He was very pointed with me, saying several times 'You keep innovating!'" she recalls. "He took me to task and he tasked me. It took me a while to digest that. It's a big thing to have someone like that say that to you. I sat with it for a couple of years."
Meklit has embodied multiplicity since she first started performing at San Francisco's Red Poppy Art House in the mid-2000′s. Born in Ethiopia, she moved with her family to Iowa at the age of two, and spent much of her adolescence in Brooklyn, soaking up the sounds of hip hop on the street. After studying political science at Yale she spent several years in Seattle before moving to San Francisco, looking to immerse herself in the city's thriving arts scene.
"I'm always thinking about America and Ethiopia, about how the hybridization is going to work in both places," she observes. The lapidary orchestrations on her new record were created by Meklit herself, with the help of her bassist Sam Bevan. But Meklit is quick to credit Dan Wilson's lithe musical mind with a major role in shaping the ultimate sound of the record, in addition to his contribution of co-writing two songs. A prolific songwriter, arranger and producer, Wilson seemed to know exactly which player to place where to accentuate Meklit's sound. He brought in Ethio-Cali's tenor saxophonist Randall Fisher, who plays a perfectly calibrated Ethio-jazz intro on "You Got Me." And Ethiopian-born, LA-based keyboardist Kibrome Birhane's spare piano work levitates "Yesterday is a Tizita." Meklit describes how Wilson's songwriting precision, and razor sharp, generous feedback helped to weave a remarkable clarity into the music, enhancing Meklit's already vivid hues.
—
Join the conversation on Twitter and Facebook.