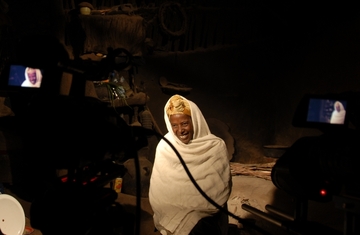 Tadias Magazine
By Tadias Staff
Published: Wednesday, April 22, 2009
New York (Tadias) – The following is an interview with Ethiopian-born filmmaker Aida Ashenafi. Her latest documentary Guzo (Amharic for Journey), which won first place at the 3rd Annual Addis International Film Festival last month, is scheduled to premier in Washington, DC, on May 9, 2009.
The film chronicles the interaction between two young residents of Addis Ababa and their peers in the Ethiopian countryside. Over the course of 20-days both the urbanites and country folks are forced to confront stereotypes about each other and grapple with issues of gender and privilege.
Tadias: Aida, congratulations on winning the first place
at the 2009 Addis International Film Festival.
Aida Ashenafi: Thank-you very much! It is always a great honor when your hard work is recognized and enjoyed by many.
My role in the making of Guzo was to be the creative force as the director as well as the producer. I feel blessed everyday because I thoroughly enjoy being a part of the experience whether it is being I am directing, interacting with the cast and crew, editing, or even creating marketing material. This is what I love to do. I filmed and directed Guzo over the course of 20 days. Basically, we transplanted two urban Addis young adults and gave them a taste of rural Ethiopia. I really hope that everyone will go and see the movie which will be premiering in DC on May 9, 2009 with follow up shows on Memorial Day weekend May 23-24 at George Washington University's Lisner Auditorium.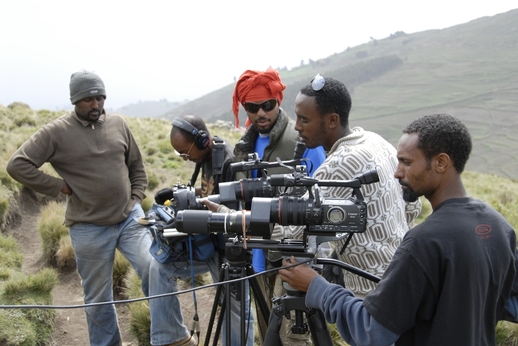 The film crew at work (photo courtesy of Mango Production)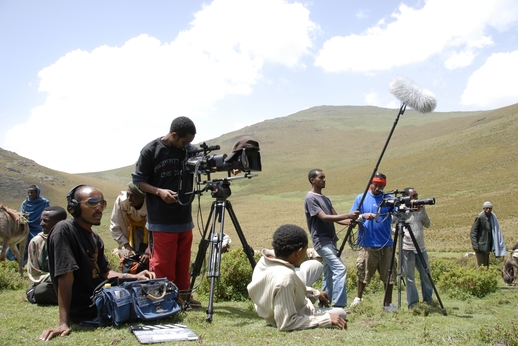 (photo courtesy of Mango Production)
Tadias: What inspires you most about filmmaking?
Aida: I have always loved the art of storytelling and engaging behind the lens of the camera. Guzo was a project that both inspired and intrigued me from the beginning. As my filmmaking background is mostly fiction films, not documentary, I feel that Guzo is more entertaining and tremendously relatable whether you come from the city, the countryside, Ethiopian, American, European etc…It crosses many boundaries while touching on human issues that bond us all.
Tadias: You were a New Yorker before transplanted yourself and began living and working in Ethiopia. What is your advice to aspiring Ethiopian-American filmmakers and investors who are interested in producing movies in Ethiopia?
Aida: My most important piece of advice whether you may be an aspiring film maker or an investor is patience. Patience, especially in Ethiopia, will go a long way because everything takes time. Secondly, I feel that it is so important to look for a great story to tell. Finally, one really needs to associate themselves with key people that will push you forward and that have complementary skills that will help you achieve your goals.
Tadias: Aida, thank you from all of us at Tadias and good luck.
Aida: Thank you Tadias Magazine for the pleasure of this interview and the additional spotlight you have brought to my film Guzo-The Journey.
—
VIDEO: Interview with Academy Award Nominee Leelai Demoz (Tadias TV)
In the following interview with Tadias TV, Academy Award nominee Leelai Demoz, speaks about his role as one of the judges at the 2009 Addis International Film Festival and his experience as a filmmaker. The documentary Guzo (The Journey), directed by Aida Ashenafi won first place in this year's competition. Leelai's interview was taped in Los Angeles. Part two of our Ethiopians in Hollywood series features filmmaker Zeresenay Berhane Mehari, who worked as Cinematographer and 2nd Unit Director for Guzo.
Part Two: Featuring Filmmaker Zeresenay (Zee) Berhane Mehari