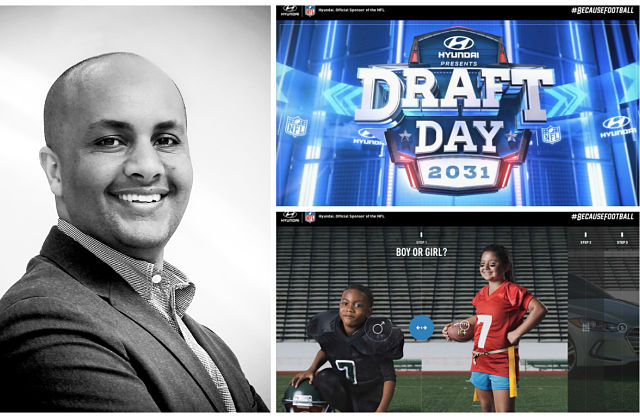 Tadias Magazine
By Tadias Staff
Published: Wednesday, April 27th, 2016
New York (TADIAS) — This past February David Mesfin was behind the 2016 Super Bowl AD for Hyundai Motor Co. Prior to that the Ethiopian American Associate Creative Director was involved in the Korean automaker's famous 2014 FIFA World Cup commercial entitled Because Fútbol. And this week Hyundai USA kicked-off another nationwide campaign created by David Mesfin and colleagues, this one celebrating American football and the 2016 National Football League (NFL) draft, which take place in Chicago from Thursday, April 28th to Saturday, April 30th.
The new commercial called Draft Day 2031 is a playful mockumentary featuring children vying for the pro-football status under the microscope of celebrity sports broadcasters. "The project was very complex in terms of logistics and partners, but at the end our vision came together," David shared with Tadias Magazine. "We have an amazing client who believed in the idea and gave us the green light to produce it in a very short period of time." David added: "This idea aligns with NFL's focus on families through their ongoing Football is Family Campaign."
During NFL Draft season the U.S. football league selects and recruits college football players, and David points out that "last year over 200k fans experienced the Draft in person. Over 34 Brands (a record number) activated on-site at the Draft and 37M viewers watched the Draft on NFL Network and ESPN."
The video stars NFL Draft Analyst Mike Mayock, Lawrence Timmons from the Pittsburgh Steelers and Sam Young from Miami Dolphins. "Mayock and the players are doing normal player analysis as they would at the NFL Combine leading into Draft, but you soon realize that the players being analyzed are young children," Hyundai USA explained in its press release. "Users will have the opportunity to pull Facebook images of their own children playing youth football into a video generator on the Destination Hub. The video generated is Mayock analyzing the children."
"Our Draft Day 2031 digital hub is a fun way for families to engage with the draft and create personalized content of their future football stars," said Dean Evans, Chief Marketing Officer of Hyundai Motor America. "The goal of our NFL program is to make the fan experience better, whether that's on TV, on social media or on-site, and we are excited to bring that to life in year two of our official NFL sponsorship."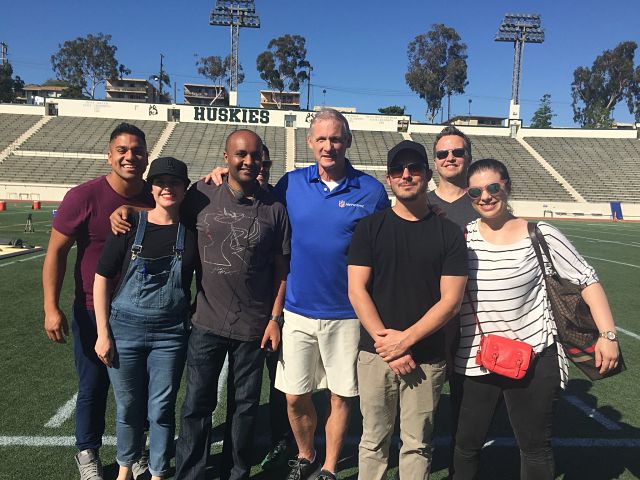 David Mesfin (third from left) with his co-workers on the set of 2016 Hyundai NFL Draft AD. (Courtesy photo)
As an Associate Creative Director, David tells Tadias that his main focus was to make sure that the idea was executed on time and on budget. "I managed the client expectation, and made sure internal teams and vendors collaborated," he said. "I had an amazing team at InnoceanUSA to bring this idea to life. A big credit goes to my writing partner Nick Flora who came up with the original idea."
—
Related:
Five bold predictions for the 2016 NFL draft (USA Today)
Join the conversation on Twitter and Facebook.