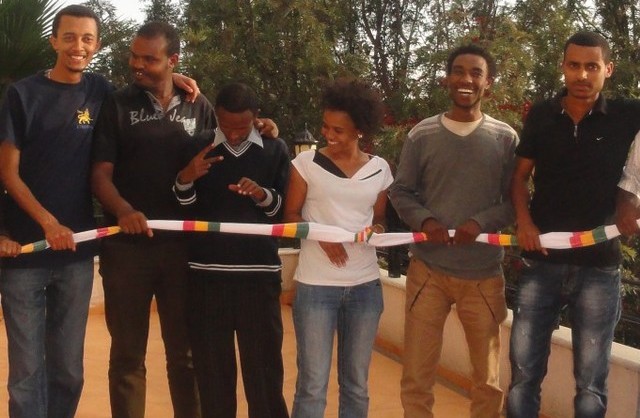 Tadias Magazine
News Update
Saturday, May 3rd, 2014
New York (TADIAS) — Global Voices, an online network of bloggers, activists, writers, and translators from 137 countries, is calling for the release of nine journalists arrested in Ethiopia last week. In a statement the organization said it is "particularly saddened" that four of its translators — Befeqadu Hailu, Abel Wabela, Zelalem Kibret and Edom Kassaye — are among those detained.
"We are outraged by this flagrant violation of our friends' rights to free expression and deeply concerned for their safety. We cannot remain silent," the statement added. "Blogging is not a crime. On May 3 — World Press Freedom Day — we as a community demand that Ethiopian authorities release our blogger colleagues and friends, and all other jailed journalists in Ethiopia."
Six bloggers from the Zone 9 collective and three freelance journalists were rounded up from various parts of Addis Ababa in a coordinated, two-days, federal police raid last weekend. Those imprisoned also include Atnaf Berahane, Mahlet Fantahun, Natnael Feleke (of the Zone 9 group) and journalists Asmamaw Hailegeorgis and Tesfalem Waldyes. The authorities have charged all of them with "working with a foreign organization to incite public violence." Their court case has been adjourned until May 7th.
"Since 2012, the Zone 9 blogging collective has worked to foster civic engagement and critical commentary about social and political issues in Ethiopia," noted the statement from Global Voices. "Despite difficult conditions, they have exercised their right to free expression in the interest of promoting peaceful dialogue and debate."
Click here to read the statement at globalvoicesonline.org.
—
Related:
BBC Trending: Jailed Zone Nine Bloggers Spark Ethiopia Trend on Social Media
Ethiopian Government Charges Journalists With Inciting Public Violence (VOA News)
Nine journalists and bloggers arrested in Ethiopia ahead of Kerry visit (The Guardian)
Six Members of Zone Nine Blogging Collective Arrested in Ethiopia (TADIAS)
Join the conversation on Twitter and Facebook.