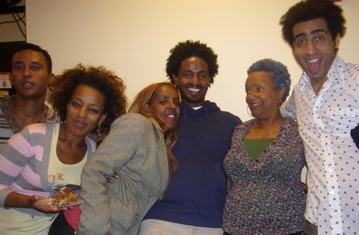 By Liben Eabisa
Published: Monday, May 5, 2008
New York (Tadias) – An Ethiopian-Israeli play, based on a true story told from a perspective of a ten-year-old boy named Andargay, is making the rounds in the United States in conjunction with Israel's 60th anniversary. I managed to catch One of a Kind at the New Victory Theater in New York (42nd street, just west of Broadway).
The show, which made its US premiere in Tulsa, Oklahoma on April 24th, is written by Yossi Vassa (the adult Andargay) and director Shai Ben Attar. One of a Kind, which chronicles Vassa's exhausting childhood expedition from Ethiopia to Israel, from a humorous vantage point, was first produced in Hebrew in 2005 and was named Israel's best play of the year in 2006.
Tadias Magazine featured Vassa five-years-ago this month (during our first year of publication) following his appearance at Stanford University during the U.S. tour of his one-man show, It sounds Better in Amharic, a lively comic relief about the socio-cultural differences between growing up in Ethiopia and Israel.
Just like his previous stage stint, One of a Kind is based upon Yossi's own real-life experience. His family is one of the 20,000 Ethiopian Jews who left their homes between 1977 and 1985 to partake in a clandestine mass departure to Israel. Told through the brilliant and hopeful eyes of the 10-year-old Andargay, the play focuses not as much on the travails of the long trek by foot from Ethiopia to Sudan, but on the candid curiosity and bliss discovery of youth. Yet, the play does not hide the journey's difficult moments: Andarge's grandmother (played by Tihitina Assefa) dies under miserable conditions in a refugee camp in Sudan, while the rest wait for their turn to be flown to Israel, along with the added burden of having no money to bribe the Sudanese authorities. Life in Sudan's harsh desert stood in stark contrast to the spectacular Gonder highlands they left back in Ethiopia, where Andargay's father, Asmamo (played by Shai Fredo), was set to start a dairy farm business with his future son-in-law, Isaac (played by Roy Zaddok).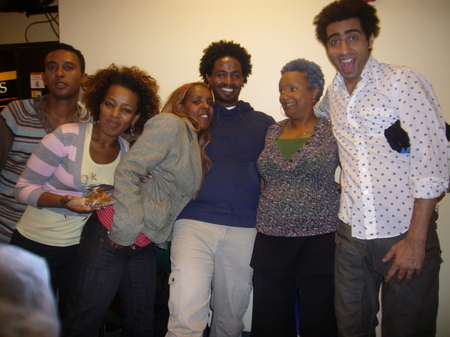 Above: From left – Yossi Vassa, Mahereta Baruch, Sky Gete, Benny Gatahon,
Tihitina Assefa, and Roy Zaddok. New Victory Theater. New York.
Friday, May 2, 2008. Photo by Liben Eabisa.
The part that made me cringe is the rather cartoonish depiction of Andargay's Amharic teacher (played by Benny Gatahon), the show's only non-Jewish Ethiopian character. The geez alphabet instructor is portrayed as both goofy and a bigot. The racist and foolish gentile administers corporal punishments on Andargay for no more a crime than the young boy's Ethiopian Jewish identity. He refers to him as "smart alec Jew" and screams "Jesus Christ" every time he swings his dula (stick) at the poor kid, whom as a result banishes himself from school at age ten, never to return again. Although, it's done with humor in mind (the teacher is actually very funny, when he is not spewing antisemitic remarks), the play unnecessarily risks negatively stereotyping Ethiopians as anti-semetic to western audiences, which in turn gives the false impression of the actual diversity and relatively peaceful co-existence of the three Abrahamic faiths in Ethiopia. Certainly, not all Ethiopian teachers subscribe to identical religious principals – Ethiopia, often referred to as the cradle of humanity, has been home to Christianity, Judaism and Islam for far longer than most of us are willing to acknowledge.
So, I asked Vassa, who studied theater at University of Haifa and served in the theater section of the Israeli army, what he thought of my feelings. "I recently returned to Ethiopia and saw this harmony and coexistence personally," he replied, "but our story takes place between the regimes of Sellassie and Mengistu. This Marxist/Communist regime had a lot of anti-semitism that was expressed on every level up to the point that we were called "Falashas"- strangers without a land only because people clung to their Jewish religion."
Back at the theater performance, I had overheard one woman ask her friends, "What did you think of the play?" as we prepared to exit the theater. Her friend, who spoke with a hint of Slavic accent, hesitated for a moment, her facial expression suggesting that she was still searching for the right words. "Too heavy? The first woman assisted, rephrasing her question in a suggestive manner. "Different", came the answer. "It's different, it's very different."
Although mixed with humor, uplifting music and dance, the harsh reality of refugee camps may be a bit depressing and the cultural settings might indeed be "very different". However, the 'edutainment' value of One of a Kind is not lost on Beejhy Barhany, whom as a seven-year old girl, had made the same risky journey from Ethiopia to Israel, via Sudan. The story might as well have been hers, except that she was three years younger than Andargay and she did not live in a refugee camp in Sudan. She now lives in New York City, where she serves as Director of the Beta Israel of North America (BINA) Cultural Foundation, Inc., an organization dedicated to preserving and advancing the culture and history of Ethiopian Jews.
"It is educational and entertaining as well. For those who don't know much about the Ethiopian Jewish experience, it is a brief introduction into the journey of Ethiopian Jews immigrating to Israel", Barhany said. "Plus, it's delivered in an entertaining and humoristic way. I definitely recommend it for people with families to go and see it."
Monica Haynes-Kassa of Brooklyn, who was present with her daughter Farah Wiggan, was also impressed: "My daughter and I throughly enjoyed One of a Kind, so many funny scenes woven into a very serious topic of faith, hope and redemption", she said. " I loved the role of the grandmother who had so much love and hope for her family in seeing that they kept her life-long dream to migrate back to Israel, even though she sacrificed her own life in helping them to achieve that dream along the way. The animiation was a special touch and very creative. I was also surprised at how well the actors performed in English. Congrats (mazel tov) to Yossi Vassa on an excellent job."
More than the play itself, what caught our attention mainly was the young and remarkable stars of the Nephesh Theatre, the most celebrated Ethiopian acting group in Israel, according to the program's literature.
"All of the cast except Roy Zaddok are from Ethiopia (Roy is from Yemen)", Howard Rypp, the show's Producer and Artistic Director, told Tadias via an email interview. "It has been a gratifying experience seeing how the production has been so well received in the U.S."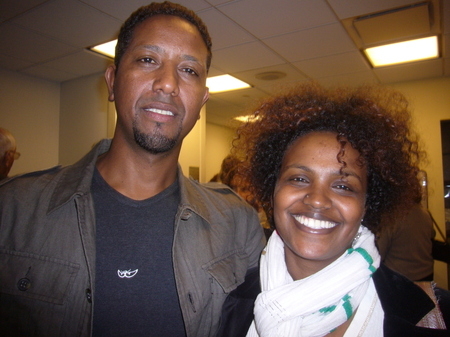 Above: Actor Shai Fredo and Beejhy Barhany. New Victory Theater. New York.
Friday, May 2, 2008. Photo by Liben Eabisa.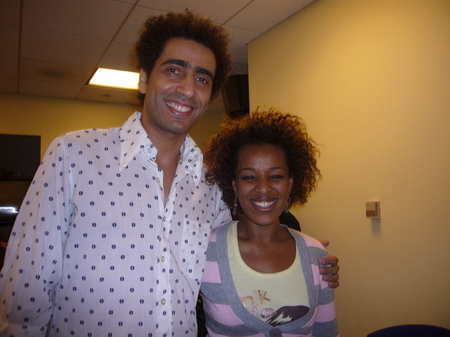 Above: Roy Zaddok and Mahereta Baruch. New Victory Theater. New York.
Friday, May 2, 2008. Photo by Liben Eabisa.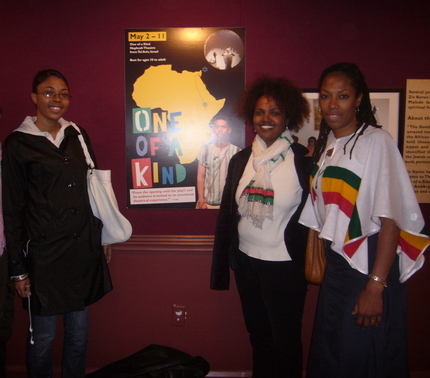 Above: Monica Haynes-Kassa of Brooklyn (far right), who was present with
her daughter Farah Wiggan (left), is pictured here with Beejhy Barhany.
New Victory Theater. New York. Friday, May 2, 2008. Photo by Liben Eabisa.
Yossi Vassa is popular, having had regular appearances in the Israeli prime time television program, Israel Live as well as being featured in Dan Wollman's film, Foreign Sister. Vassa has starred in three movies in Amharic, and has appeared with the Nephesh theatre in Athol Fugard's Sizwe Bansi is Dead. Speaking about his performance in One of a Kind, Vassa notes, "I feel we as an ensemble that presents their story..we are writing our history..there is special significance that we have lived this experience and sharing it through the writing and the entire body."
Vassa also appreciates the support of the Ethiopian American community: "Their responses are good and positive – I see how they look at the Ethiopian side of me with pride and I am happy when we have this meeting in a neutral place where we can hug each other. My connection to Ethiopia is important to me." Vassa points to the growing success of Ethiopian youth. "There is a huge motivation among the Ethiopian Jews in Israel and we will see many more successes in many fields in Israel. I see my success as a mirror to the younger generations to look at their past and at themselves as an inspiration" he tells us.
Shai Ben Attar is the co-writer with Vassa of One of a Kind. After studying at the Telma Yellin Arts School Attar directed both the one-man show It Sounds Better in Amharic and One of a Kind. His play More Hana than Laslow has won the Best Entertainment Show award in 2004 and recently toured North America. Attar has also worked as head writer for Israeli Television's National Channel as well as for the Educational TV Channel.
The other casts of One of a Kind include, Tehitina Assefa, a dedicated nurse as well as member of the acclaimed Itim Ensemble; the elegant Mahereta Baruch, a graduate of the University of Haifa's Psychology program who finished second place in the Israeli reality program based on The Apprentice; Sky Gete, a graduate of Beit Tzvi's School for Stage Art and whose acting experience includes performances of Macbeth, Hair, and Peter Pan; Shai Fredo, a graduate of Nissan Nativ Acting Studio and producer of the one-man play Judean Lion; Benny Gatahon, a graduate of the University of Haifa's Theatre Department, and featured in the television series The Champion; and Roy Zaddok, a graduate of the Nissan Nativ Acting Studio and Tel Aviv's University's Faculty of Law, whose screen appearances include Miller's Death of a Salesman, Vonnegut's Catch 22, as well as various guest spots and commercials on Israeli television.
The Nephesh Theatre will be playing on Broadway until May 12th, in Seattle from May 14th through the 18th, and in Toronto on May 20th. Additional information about the Nephesh Theatre shows can be found on their website: www.nepheshtheatre.co.il