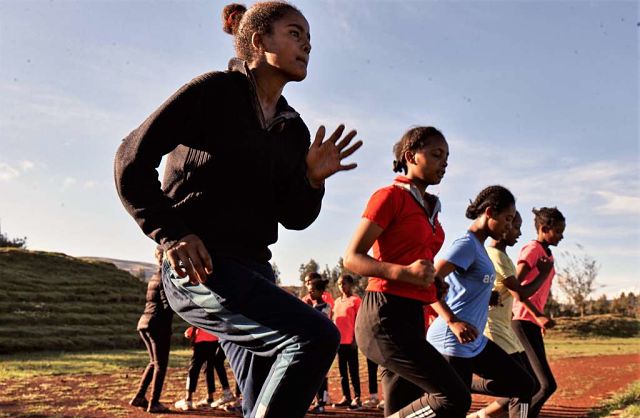 The Girls Gotta Run Foundation started out with an effort to get running shoes to girls in Ethiopia.
Now, more than a decade later, the Washington, D.C.-based nonprofit is working with 100 girls and 40 mothers in the African country.
And the Girls Gotta Run Foundation provides more than just shoes. Three-year scholarship programs in Sodo and Bekoji, Ethiopia, allow girls to stay in school while also running, receiving coaching and running gear, and learning life skills, according to the nonprofit's website.
In a place where child marriage is not uncommon, running provides an opportunity for Ethiopian girls to have more control over their futures — even if they don't become professional runners. Education is key in the scholarship programs.
"After working closely with the communities we collaborate with, we shaped our program around the challenges and opportunities facing girls and women in these unique environments," Executive Director Kayla Nolan wrote in an email from Bekoji, Ethiopia. "This led to a focus on education, early marriage prevention and recreational running."
The Girls Gotta Run Foundation has worked with 210 people in total, she wrote.
Founder Pat Ortman, a retired women's studies professor at Mount Vernon College, said the organization has grown much more than she imagined.
"I'm awestruck," Ortman said.
In late 2005, Ortman read a Washington Post article titled "Facing Servitude, Ethiopian Girls Run for a Better Life." She said she was impressed by the determination of the Ethiopian girls despite their tough circumstances. One runner featured in the story spoke of how she had to either run barefoot or in her brothers' shoes because she didn't have her own.
"They were just so optimistic," she said.
—
Related:
In Sodo & Bekoji, New GGRF Athletic Scholarship Keeps Girls in School
Join the conversation on Twitter and Facebook.