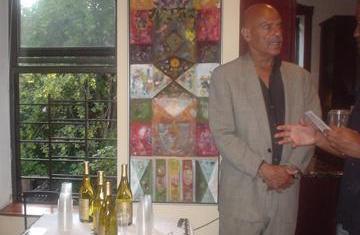 Tadias Magazine
By Tseday Alehegn
This feature was first published in our print issue in 2005
New York (TADIAS) — In the hamlet of Washingtonville, New York, lies the scenic campus of Brotherhood Winery, a national historic landmark and America's oldest winery, established in 1837. According to the Washingtonville Village Historian, Edward J. McLaughlin III, the original owner John Jacques "had planted a vineyard in the rear yard of his lumber business store, shipping the harvest of grapes to the Isles of Manhattan for 15 cents a pound." When the price of grapes fell, Jacques experimented with pressing the fruit into juice and started producing wine. Subsisting on the sale of sacramental wine during the prohibition years, Brotherhood Winery continued its winemaking legacy.
Today Brotherhood Winery is a popular site for tourists, producing a wide assortment of award-wining wines, including Chardonnay, Johannisberg Riesling, Seyval Blanc, Chelois, Cabernet Sauvignon, Merlot and Pinot Noir. Under the supervision of Cesar Baeza, an internationally-renowned Chilean winemaster and new owner of Brotherhood Winery, a new dessert wine called Sheba Tej made from pure organic honey is now part of the premium wine list. Although the honey wine may be newly introduced to the Hudson Valley, Ethiopians have known it for centuries as "Tej".


Brotherhood Winery, a national historic landmark and America's oldest winery, established in 1837. (Photo: TADIAS)
Tej, or honey wine, is one of the world's earliest fermented drinks, mentioned in ancient texts and scriptures, and consumed before the time of Christ. Traditionally, in Ethiopia, Tej was prepared primarily by women. In his book A Social History of Ethiopia, Historian Richard Pankhurst writes, "None except nobility and the highest chiefs and warriors were privileged to drink Tej."
The honey wine's popularity, all the same, surpassed the environs of the royal courts to be enjoyed by all sectors of ancient and modern Ethiopian society. Tej became a favorite during feasts and celebrations, notably weddings. The unique wine recipe contains no sulfites nor grapes, just pure honey. Legend even has it that Tej was one of the many gifts carried by Makeda, the Queen of Sheba, to Jerusalem's King Solomon.
Honey wine was also known as mead and enjoyed in other parts of the ancient world. According to S. W. Andrews' accounts of mead and meadmaking, in classical Greek mythology, the 'Nectar of the Gods' was a honey concoction known as Melitites; and the term "honeymoon" refers to the old tradition of newly weds drinking wine and feasting on honey cakes for one lunar month after their marriage, in the hopes that their actions would make their union more fertile.
America's oldest winery began producing one of the world's oldest wines after an African American entrepreneur, Ernest McCaleb, met and initiated a joint collaboration with Brotherhood Winery. McCaleb is founder and CEO of Sheba, Inc., a company focusing on the production and distribution of organic Ethiopian honey wine. Prior to founding Sheba, Inc., McCaleb had spent significant time conducting and financing highly successful import/export businesses in Ghana, Nigeria, Ivory Coast, Senegal, Cameroon, Gabon and Sierra Leone. His corporate offices were located on Wall Street in New York City and Western Avenue in Lagos, Nigeria, and his import/export financing company generated over $250 million in sales of cement, rice, sugar,and other commodities to governments and major businesses in West Africa.
A chance meeting with an Ethiopian in Paris gave rise to his eventual introduction to Ethiopian honey wine. Having a great passion for Africa, its diversity, traditions, and history, McCaleb continued on his entrepreneurial quest and established Sheba in 2003 with the sole purpose of producing authentic honey wine according to ancient Ethiopian traditions. To that end, he arranged for three generations of Ethiopian women — a mother, her daughter and granddaughter — to travel from Addis Ababa, Ethiopia to New York's Brotherhood Winery to demonstrate how Tej is prepared. Winemaster Baeza studied how this first batch of Sheba Tej was made. The careful end product was a naturally fermented, organic drink with a pleasing golden yellow hue — an ancient, spicy, semi-dry, full-bodied wine. The aroma of honey and wild flower permeated the air, and the Tej was joyously tasted by Baeza and the employees of Brotherhood Winery in conjunction with a hearty meal of Injera and Wot prepared by the three Ethiopian women.
Since then, Sheba Tej, produced at Brotherhood Winery has won awards at international honey wine festivals, and is distributed in many stores across the U.S. and the Caribbean. "Since I've begun doing this," McCaleb says, "I've learned more about this rich history, and as I give tasting sessions I have become even more inspired. This is beyond the commercial success. It's about pride and heritage, which those women taught us when they came to Brotherhood Winery."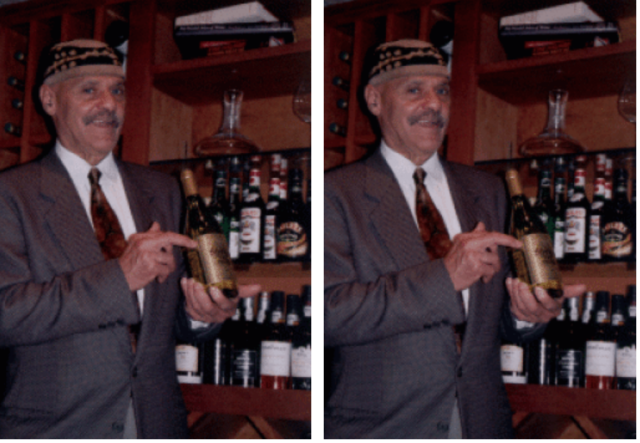 Ernest McCaleb, Founder & CEO of Sheba, Inc. (Photo: TADIAS)
The nutritional benefits and health promoting agents in honey itself are to be marveled. Honey, when stored properly, can remain edible for centuries, having almost no expiration date. According to a recent study conducted by Gross Market Research for the National Honey Board, four out of five households in America use honey in various capacities — as a sweetener, source of carbohydrate, anti-oxidant, skin cleanser, and even as an antiseptic to heal burns and wounds. Pure honey contains several important vitamins, including Thiamin, Riboflavin, Niacin, Folate, Vitamin B-6, and Vitamin C. Numerous essential minerals, such as Calcium, Iron, Zinc, Potassium, Phosphorus, Magnesium, Selenium, Copper, and Manganese, are also contained in honey. Honey continues to be used to alleviate symptoms of allergies, anemia and several chronic diseases, including asthma and high blood pressure.
Sheba Tej — prepared from pure, organic honey and preserved without the use of sulfites — retains the nutritional qualities of honey while at the same time making for an excellent wine with meals, or alone as an aperitif.
By producing and introducing Sheba Tej to the world, McCaleb and Brotherhood Winery are not only sharing in Ethiopia's rich heritage but also fusing together the oldest tradition of winemaking in America with the ancient culture of preparing honey wine in Ethiopia. Their efforts have strengthened American and Ethiopian ties and, in the process, brought the famous 'Nectar of the Gods' to your dining table.
So uncork a bottle of Sheba Tej, pour generously into your cups, raise them, and proclaim the traditional Ethiopian toast, "Le tenachin!" To our health!
——————
About the Author:



Tseday Alehegn is the Editor-in-Chief of Tadias Magazine. Tseday is a graduate of Stanford University (both B.A. & M.A.). In addition to her responsibilities at Tadias, she is also a Doctoral student at Columbia University.
Related:
A friend to remember – Ernie of Sheba Tej dies (December, 2007)
Join the conversation on Twitter and Facebook.