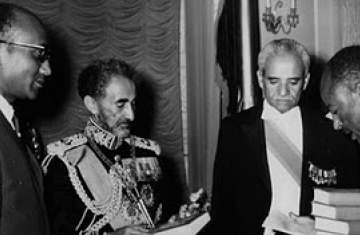 Above: Episodes in the Life & Times of Emperor Haile Selassie
is one of the films that will be screened at the 8th film festival.
Tadias Magazine
Events News
Updated: Monday, May 9, 2011
New York (Tadias) – Now in its eighth year, the Sheba Film Festival is set to begin on May 15th in New York. The annual event, organized by BINA Cultural Foundation Inc., primarily focuses on movies that pay homage to the rich legacy of Ethiopian Jews as well as the global Ethiopian community.
In addition to the film screenings – running from May 15 to June 2 – at four different locations (Faison Firehouse Theatre in Harlem, The JCC in Manhatan, The Schomburg Center and Kane Street Synagogue), the program also includes an art exhibition organized in conjunction with the International Agency for Minority Artists Affair (IAMAA). Opening reception is scheduled for Sunday, June 5th (5:00PM) at 163 west 125th Street in Harlem.
Here is the schedule for the 8th Sheba Film Festival:
Sunday, May 15th 2011 3pm (Admission: $12)
Faison Firehouse Theatre in Harlem
6 Hancock Place, New York NY 10027
(West 124th Street between St. Nicholas and Morningside Avenue).
Director: Duki Dror (Israel 2010), 58 min, Amharic, Hebrew, English subtitles
Watch the Trailer

Delicious Peace Grows in a Ugandan Coffee Bean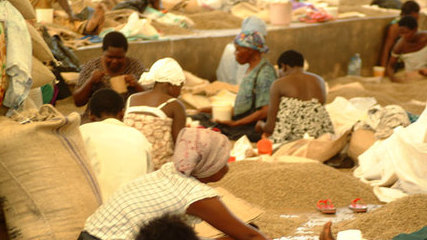 Tuesday, May 24th 2011 7:30PM (Admission: $10)
JCC Manhattan, 334 Amsterdam Ave, at 76th St.
Director: Curt Fissel (Uganda/USA 2010), 40 min, English
Synopsis:
Living in the lingering wake of the Idi Amin regime of terror and intolerance, Christian, Jewish, and Muslim Ugandan coffee farmers challenged historical and economic hurdles by forming "Delicious Peace" Cooperative. Their mission was to build harmonious relationships and economic development, and they are succeeding. Partnering with a Fair Trade US roaster, the farmers' standard of living is improving, peace is flourishing, and their messages of peace and fair wages are spreading to their coffee customers in the US.
Watch:

The New York Premiere of Twilight Revelations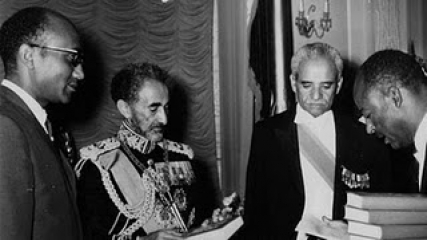 Episodes in the Life & Times of Emperor Haile Selassie
Thursday, May 26th, 2011 7PM (Admission: $12)
The Schomburg Center (515 Malcolm X Boulevard, 135th St)
Director: Yemane I. Demissie (Ethiopia/USA 2009), 58 min, English subtitles
Synopsis:
Using archival footage and photographs, the film explores key moments, both public and private, in the life and reign of Ethiopia's last emperor Haile Selassie (1892 – 1975).
Click here to watch the trailer.
Thursday, June 2nd, 2011 7PM (Admission: $12)
Kane Street Synagogue (236 Kane Street Brooklyn, NY 11231)
Director: Benjamin Mandell (Ethiopia/Israel 2010), 27 min, Amharic, English subtitles
Synopsis:
Ethiopia entered the new millennium on September 11, 2007 nearly eight years after the rest of the world. The celebrations are riotous. Desaly Goshu left his birthplace of Ethiopia seventeen years ago. As a young boy, his family immigrated to Israel. For the first time, Desaly returns to Ethiopia to remember his past and to celebrate the coming of a new era.
Watch the trailer:

Thursday, June 2nd, 2011 7PM (Admission: $12)
Kane Street Synagogue (236 Kane Street Brooklyn, NY 11231)
Director: Ruth Mason (Israel 2010) 30 min, Hebrew English subtitles
Synopsis:
Ethiopian Jews' multiple names reflect the richness, wisdom and beauty of their culture — and every name tells a story. In the film, young Ethiopian Israelis share their journeys toward their names: stories of love and connection, survival and loss, anger and pride. The characters' original names – changed without their consent upon arrival in Israel – take them back to their childhoods in mountain villages, to the hunger and fear in Sudan, to longing for loved ones who died or disappeared on the journey to Israel, to denial of their identity…and reclamation of their roots.
Watch the trailer: