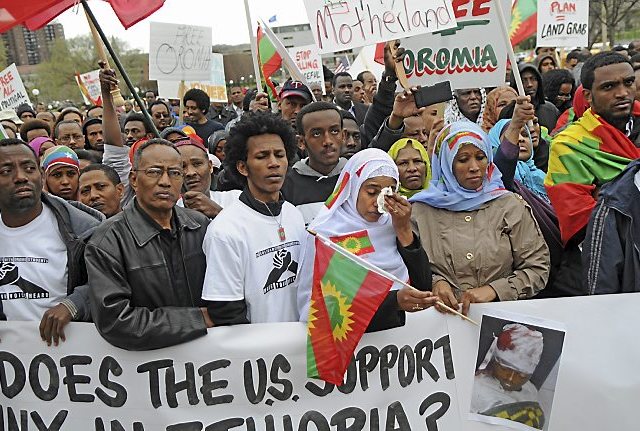 By John Brewer
More than 100 people staged a four-day hunger strike on the front steps of the state Capitol over the weekend, drawing attention to Ethiopian government violence against Oromo students.
While the government said at least 11 students had died after protests that started last month, people with family and colleagues back in Ethiopia's Oromia state said at least 70 people have been killed, with even more wounded.
The hunger strikers said they were at the capitol to draw attention to the violence.
"We have not been able to get media attention on the state authorities," said Fatuma Bedhaso, 22, of St. Paul. The hunger strike "is nothing compared to what the students back home are going through.
There are about 40,000 Oromo in Minnesota, most of them in the Twin Cities.
The conflict in Ethiopia arose April 25, when students at colleges and universities in Oromia took to the streets to protest a government plan to claim farmland in the state for the expansion of the capital Addis Ababa. Coverage has spread through social media, where content is tagged #oromoprotests.

—
Related:
The Brutal Crackdown on Ethiopia Protesters (Human Rights Watch)
Deadly Ethiopia Protest: At Least 17 Ambo Students Killed in Oromia State (VOA)
Ethiopia protest: Ambo students killed in Oromia state (BBC)
Students killed in violent confrontations with police in Ethiopia's largest state (AP)
Ethiopia: Oromia State Clashes Leave At Least 11 Students Dead (International Business Times)
Ethiopia: Discussing Ethnic Politics in Social Media (TADIAS)
Join the conversation on Twitter and Facebook.