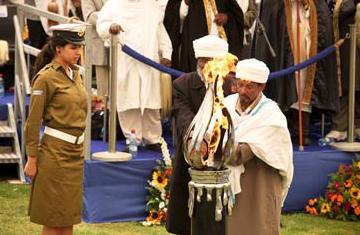 Above: Israel held a state memorial service earlier this week
for the thousands of Ethiopian Jews who perished making the
difficult trek to the country. (Photo: Noam Moskowitz)
Jewish Telegraphic Agency
JERUSALEM (JTA) — A memorial service was held for the some 4,000 Jewish Ethiopians who died making their way to Israel. The annual state service was held Wednesday near a memorial erected on Mount Herzl by the Absorption and Immigration Ministry in memory of those who died during the trek to the Jewish state. Speakers included family members of those who died, as well as Israeli President Shimon Peres and Absorption Minister Sofa Landver. Read more.
Related News:
7th Annual Sheba Film Festival in Full Swing