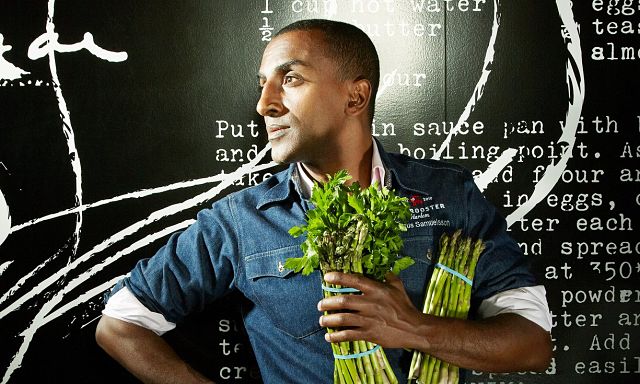 By Jay Rayner
Marcus Samuelsson: The Restaurant King of Harlem
Walk through Harlem at dusk with Marcus Samuelsson is less gentle stroll than royal procession. The chef may be wearing a flat cap, pulled down over his eyes, and a dark jacket, but they all know who he is out here north of Manhattan's 110th Street. And they want him to know they know. As we barrel from neon-gilded diner to cocktail place, from his own rotisserie chicken joint to the jazz bars he wants me to see, he is constantly greeted with shouts of "Hey chef!" from passersby which he returns with a gentle, "Oh, pur-leeze", and a shrug as if to say: "I'm just another guy."
For many people in Harlem, Samuelsson is not just another guy. For a start, the Ethiopian-born chef with the aquiline features, the Swedish surname and the only-in-America story, is a major employer. Through his various ventures, including his flagship restaurant the Red Rooster on Lenox Avenue, he has given jobs to 200 locals. Paul McCartney and the jazz trumpeter Wynton Marsalis have eaten there, along with former state governors and superstar basketball players. It is liberal New York's fantasy come to life; a single room in this splintered city where its various social tribes really do seem to break bread together.
The food festival Samuelsson launched, Harlem EatUp, held each year in May, brings big-name chefs from all over America to their doorstep. What's more, having cooked for Barack Obama at the White House, he even brought the president back to his place in Harlem for a $30,000-a-plate election fundraiser. Making his home neighbourhood the star is, he claims, what really matters. "It's Harlem first, the Red Rooster second," he says. "A menu you can learn. But the place? Learning a place is different."
Right now, he is trying to learn an entirely new place. In the autumn, he opens a second Red Rooster, inside the new Curtain Hotel in London's Shoreditch. His take on American soul food subtly refracted through the lens of his African heritage is coming to London. "We must get 20 requests a year to open a new Red Rooster," he says. "I only wanted to do it in a city with a dynamic we could learn from."
—
Related:
Marcus Samuelsson Hosts 2nd Annual Harlem EatUp Food Festival May 19 – 22
Join the conversation on Twitter and Facebook.