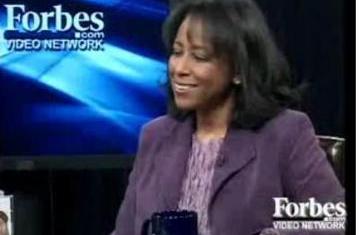 Above: Forbes highlight EthiDolls through an interview with
Co-Founder & CEO Salome Yilma. Video posted by Dire Tube.
Tadias Magazine
Created by Two Ethiopian Women: EthiDolls to Spread
a New Vision of Africa
By Margaret Heneghan
Updated: Monday, August 16, 2010
New York (Tadias) – As young girls in Ethiopia, Yeworkwoha Ephrem and Salome Yilma were part of the first generation to help their native land bridge into the modern world. Today, they are New York City entrepreneurs working to preserve African culture for future generations.
Through their start-up company EthiDolls™, Ms. Ephrem and Ms. Yilma are developing African signature dolls and accessories that teach history and tradition, as well as celebrate cultural diversity.
"As a child, I believed that the world had infinite possibilities because all around me women had equal responsibility for life. School, play, my mother's work, my father's work — all were life," says Ms. Yilma, EthiDolls' chief executive officer. "This notion has always grounded me and allowed me to thrive – personally and professionally – uninhibited by the many prejudices we all experience as we go through life."
"I have my parents to thank for this precious gift; their emphasis on integrity, education and aspiration has always been my touchstone," she says. "We at EthiDolls believe that these are the same gifts all parents wish to bestow on their children. And we hope to awaken this same spirit of leadership in today's young African-American girls and their multicultural playmates by offering a new vision of the African experience. We believe that connection to the rich historic cultural heritage of Africa will be a good source for young people to extract a sense of pride and self empowerment."
Video: Ethiodoll CEO & Founder Salome Yilma on Forbes

Established in 2003, EthiDolls launched its first product line in December 2006 with the "Makeda: Queen of Sheba" doll, storybook and CD narration. The line is based on the ancient legend of Makeda, "The Queen of Sheba," the first female ruler of Ethiopia, the land known as the "cradle of civilization" because people throughout the world today can trace their roots to it.
The dolls are collector quality and hand-crafted for EthiDolls by Madame Alexander® maker of the popular collectible doll line and no detail or expense was spared to capture the Queen's majestic image. The doll stands 16 inches tall and has 18 points of articulation from head to toe, including hair and lashes made of top-of-the-line kanekalon fiber and gold hoops and bangles for her wrists. The fabric used for the costume is rich in detail, hand woven in Ethiopia, and is an authentic representation of the traditional Ethiopian dress still worn today.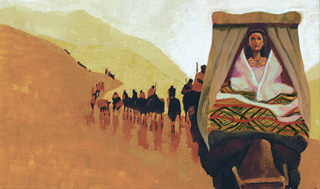 The accompanying items are of equal quality. The storybook is beautifully illustrated by a young Ethiopian artist, and the CD provides a compelling narration of Queen Makeda's rise to the throne and her relationship with King Solomon.
EthiDolls launches the Queen Makeda merchandise as African culture emerges into popular consciousness and as "edutainment"— learning through a medium that educates and entertains — is on the rise. According to the Toy Institute of America, dolls rank as the toy industry's second-largest product category in dollar volume with sales of $2.7 billion in 2005. The superior quality and authenticity of the product line also will appeal to the doll collector community, which vies with stamps and miniatures as the No.1 hobby group in the world.
"Our true aim is to enrich the lives of young girls of African heritage especially in this fast-paced and media savvy age we live in," says Ms. Ephrem, EthiDolls' executive vice president. "And we're also pleased to contribute to the growing and important movement of African-American families researching heritage and re-connecting to cultural traditions. We're eager to serve this market with upscale, quality merchandise that meets their high expectations."
EthiDolls will launch several more dolls based on African royal figures in 2007. Currently, the company is utilizing the rapidly growing direct-to-consumer marketing and distribution channels to sell Queen Makeda merchandise. Future plans include distribution in targeted specialty shops and other locations that provide unique family experiences.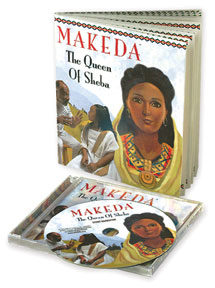 For more information about how to purchase Queen Makeda products, visit www.ethidolls.com.