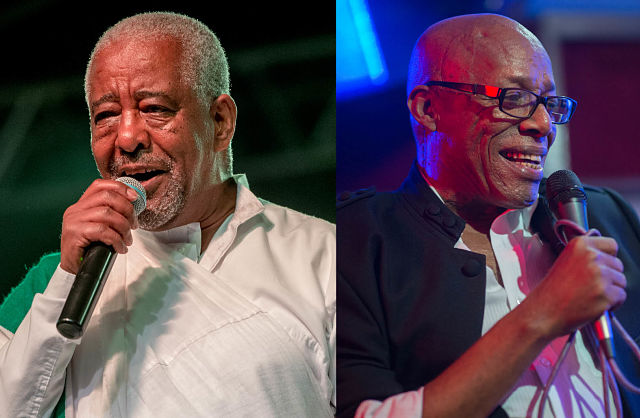 Tadias Magazine
By Tadias Staff
Published: May 16th, 2017
New York (TADIAS) – This past weekend, Mahmoud Ahmed and Ali Birra shared the stage for a rare and memorable concert held in front of a jubilant audience in Melbourne, Australia.
The Ethiopian legends played two shows accompanied by a local band, The JAzmaris, "to ecstatically exuberant audiences" reported the website Australian Stage.
And there was plenty of eskista and sing-along from Ethiopian concertgoers at the performance, which took place on Sunday, May 14th inside the Playhouse concert hall at Melbourne's Arts Centre. According to the review by the Australian Stage: "the two most revered jazz singers of Ethiopia sang with the band at high voltage – the love in the room was immense with members of the audience leaping on stage to plaster money on the white-suited singers' heads and in their pockets, sharing a moment of song with them."
The concert featured Mahmoud and Ali's most popular songs, but Ali Birra also sang a few songs in Somali, along with the song that originally made him famous: Birraa dhaa Barihe.
Both musicians who are in their seventies are considered Ethiopia's cultural icons and two of the earliest voices of Ethio-Jazz.
—
Related:
Teddy Afro 'Grateful for the Love' After New CD Ethiopia Ranks No. 1 on Billboard
Watch: Meklit Pays Homage To Ethio-Jazz
Mahmoud Ahmed Brings Down the House at Carnegie Hall Debut Concert – Photos
Join the conversation on Twitter and Facebook.