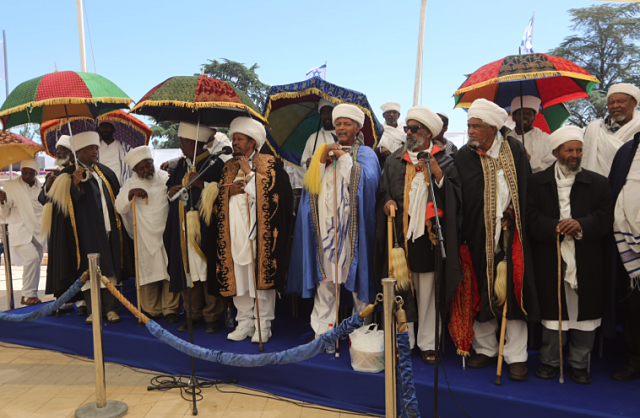 By HERB KEINON, GREER FAY CASHMAN
Calling the Ethiopian immigrants "flesh of our flesh, equal among equals," Prime Minister Benjamin Netanyahu said Sunday that there is no place for racism and discrimination in Israeli society.
"We will fight with all our strength against those unacceptable phenomena," he said of racism and discrimination at an annual ceremony at Mt. Herzl commemorating Ethiopian Jews who died while trying to make their way to Israel. "We will uproot this from our lives. We will turn it into something inferior, despicable."
Netanyahu's comments came just two weeks after protests by Ethiopian-Israelis against discrimination rocked the country.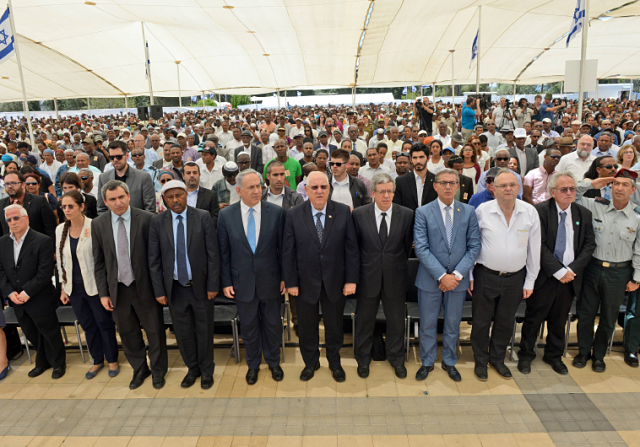 Courtesy: Prime Minister's Office – Prime Minister Benjamin Netanyahu and President Reuven Rivlin attend ceremony commemorating Ethiopian Jews who perished while making aliyah.
Read more at The Jerusalem Post »
—
Related:
Israel failed Ethiopian community, president says at memorial (Times of Israel)
Ethiopian-Israelis Want Police Officer Who Beat Soldier To Go On Trial
Ethiopian-Israelis Demand Ministerial Committees to Help Community
A Message from Tebeka – Legal Aid & Advocacy for Ethiopian Israelis (Press Release)
Soldier Becomes Unlikely Face of Ethiopian-Israeli Discontent (Video)
Ethiopian-Israeli Protest in Tel Aviv Turns Unusually Violent (Raw Video)
Israel's Ethiopians Protest in Jerusalem (The Associated Press)
Join the conversation on Twitter and Facebook.