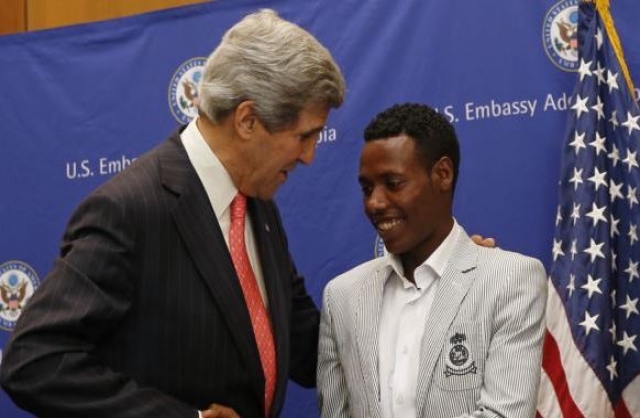 VOA News
May 26, 2013
The winner of this year's Boston Marathon, Ethiopian runner Lelisa Desisa, says he wants to return his medal to the city to honor the victims of the April bombing.
Desisa met Sunday with U.S. Secretary of State John Kerry at the U.S. Embassy in Addis Ababa. He said "sport should never be used as a battleground." And he said returning to Boston would show that the commitment to freedom is stronger than any act of violence.
The twin blasts near the Boston Marathon finish line April 15 killed three people and wounded more than 260. A Chechen-born suspect is in federal custody. His brother, also suspected of the blasts, was killed in a police shootout.
Thousands of runners who were stopped short because of the bombings ran the last kilometer of the course Saturday to symbolically finish the race.
—
Kerry, in Africa, keeps focus on Middle East (The Washington Post)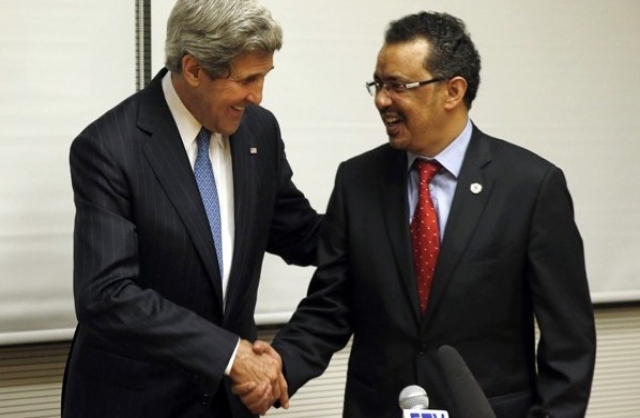 U.S. Secretary of State John Kerry, left, and Ethiopian Foreign Foreign Minister Tedros Adhanom shake hands during a joint press conference in Addis Ababa, Ethiopia, Saturday, May 25, 2013. (AP)
By Anne Gearan
ADDIS ABABA, Ethiopia — Visiting sub-Saharan Africa for the first time since taking office, Secretary of State John F. Kerry on Saturday remained focused largely on the Middle East, particularly Egypt, whose cratering economy and political problems are dimming hopes it can play a major role in fostering any new peace plan between Israel and the Palestinians.
Kerry sandwiched a day of celebratory meetings at the African Union's 50th anniversary summit in Ethi­o­pia between peacemaking efforts in Israel, the West Bank and Jordan. He will return to the Mideast on Sunday, then go to Paris to compare notes on Syria with Russian Foreign Minister Sergei Lavrov. The two have pledged to bring Syrian rebels and government leaders together for talks on ending the two-year conflict.
Read more at The Washington Post.
—
AT Town Hall Meeting in Addis Ababa, Kerry Strongly Defends Drone Policy (WSJ)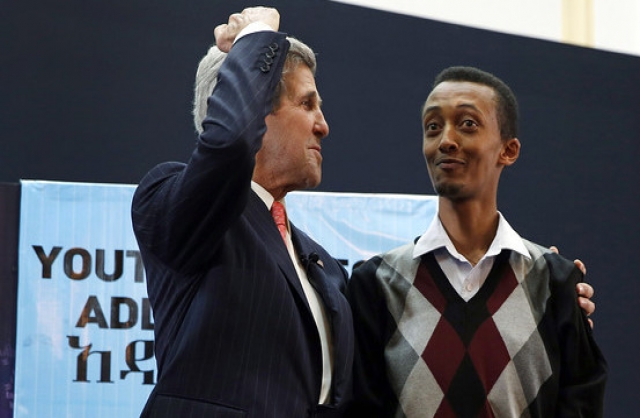 U.S. Secretary of State John Kerry jokingly checks his height, comparing it to that of an unidentified student who is acting as his stand-in for rehearsals, before the start of a town hall meeting with students during his visit to Addis Ababa, Ethiopia, Sunday May 26, 2013. Kerry visited Ethiopia to mark the 50th anniversary of the African Union. (AP Photo/Pool, Jim Young)
By Keith Johnson
Secretary of State John Kerry defended U.S. antiterrorism policies in a sometimes-contentious town hall meeting in Addis Ababa, just before departing Ethiopia Sunday.
Mr. Kerry, in response to audience questions about the U.S. drone program, vigorously defended the justice of kill strikes by unmanned aerial vehicles just days after President Barack Obama's big speech last week narrowing the scope of the fight against terrorism.
"The only people we fire at are confirmed terror targets, at the highest level. We don't just fire a drone at somebody we think is a terrorist," Mr. Kerry said, adding that strikes are ruled out if there could be collateral damage. He went on to describe the drone program as one of the "most accountable," unlike terrorist attacks, which are indiscriminate.
Mr. Kerry appeared to be describing the administration's new drone strategy, unveiled in Mr. Obama's speech, which aims to increase the oversight process determining drone targets.
Read more at The Wall Street Journal.
—
Related:
Remarks With Ethiopian Foreign Minister Adhanom Tedros After Their Meeting
Secretary of State John Kerry in Africa to Pave Way for Obama's Visit (WSJ)
Ethiopian marathon runner honors Boston victims (AP)
—
Join the conversation on Twitter and Facebook.