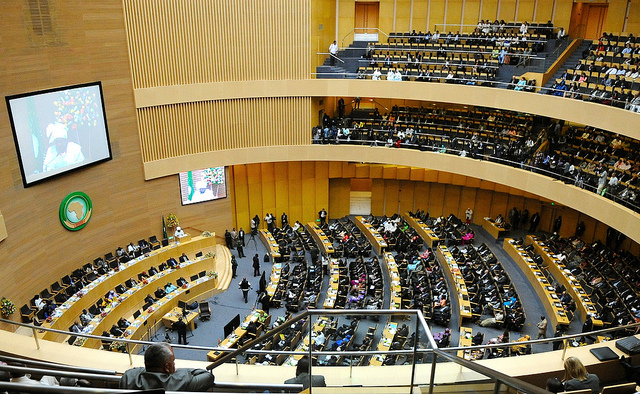 Associated Press
By KIRUBEL TADESSE
ADDIS ABABA, Ethiopia - The African Union on Saturday marked 50 years since the founding of a continentwide organization that helped liberate Africa from colonial masters and which now is trying to stay relevant on a continent regularly troubled by conflict.
Opening a summit of the African Union in the Ethiopian capital, Addis Ababa, Ethiopian Prime Minister Hailemariam Desalegn said the organization's original pan-Africanist aspirations remain relevant for a continent where many states are still struggling to overcome rampant poverty and violence.
"This historic day marks not only a great leap forward in the Pan-Africanist quest for freedom, independence and unity but also the beginning of our collective endeavor for the realizations of Africa's socio-economic emancipation," he said. "The major responsibility of the current and future generations of Africans is.to create a continent free from poverty and conflict and an Africa whose citizens would enjoy middle- income status."
Watch: Leaders open landmark AU summit (Al Jazeera English)

Video: Al Jazeera's Nazanine Moshiri reports from Addis Ababa

—
Related:
African Union leaders mark 50th anniversary in Ethiopia (BBC)
The African Union Turns 50: Voices From Ethiopia (TADIAS)
The OAU: Fifty years on (BBC News)
African Union Celebrates 50th Year (AP)
Watch: AU anniversary video spotlight (Economist)
Yadesa Bojia Reflects on African Union Flag on 50th Anniversary (TADIAS)
—
Join the conversation on Twitter and Facebook.