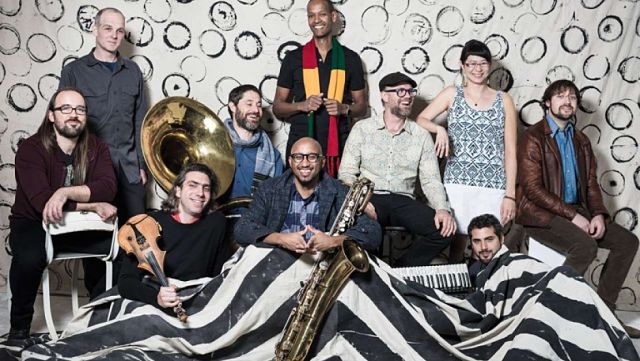 They combine saxophones and sousaphones, accordions and electric violins. Part Ethiopian pop and jazz, part American funk, part Eastern European brass ensemble, Debo Band is about as eclectic as musical fusion groups get.
Well, now even more eclectic.
On their new CD, "Ere Gobez," the group adds yet another musical genre to their repertoire: Japanese folk.
And the high-energy tunes will really get you grooving.
Ere Gobez Album Trailer from Debo Band on Vimeo.
The Boston-based group has its deepest roots in Ethiopian music. Those are still strong in the band's second album, but this time the songs are "going beyond reinterpreting the classic Ethio-jazz tunes from the golden era," says accordion player Marié Abe. Saxophonist Danny Mekonnen says this album has a suite of three songs that really depart from that approach.
"These songs are not random tunes that we're 'remixing' with Ethiopian flavors. Rather, these songs are inspired by our understanding of Ethiopia as a dynamic place created by real, but perhaps somewhat unexpected transnational encounters and hidden historical connections," Abe says.
Take, for example, how the Debo Band reimagined a popular folk tune from Okinawa. "Hiyami Kachi Bushi" was written in the 1950s, eight years after the destruction of Hiroshima and Nagasaki. Taira Shinsuke wrote the lyrics. The song was his attempt to try to help the people of Japan heal after World War II, particularly in Okinawa. It has since become a classic there.
So, what's the Ethiopia connection? Abe, who is Japanese, points out that Ethiopia and Japan have shared some of the same hardships: "Military occupation, war, famine, and homesickness that comes with forced or voluntary migration under hard circumstances. So I felt like there was a lot in common with Ethiopian experiences and Okinawan experiences," she says.
"Hiyami Kachi Bushi" has been covered so many times, there's an annual competition in Japan dedicated to remakes. Debo Band entered their Ethiopian-influenced version in the "International Competition of Hiyami Kachi Bushi" earlier this year. It turns out theirs was the first-ever entry from outside the country.
"There are two kinds of affinity we're expressing here: one is musical, the use of the particular pentatonic scale," Abe says. "The other is geopolitical/historical; both Okinawa and Ethiopia have gone through extremely challenging events like famine, military occupation, war, and immigration, that have led to the formation of large diaspora[s] throughout the world."
Songs on "Ere Gobez" also reimagine what Duke Ellington's music would have sounded like if he'd traveled to Ethiopia, and add Amharic lyrics to a hit from Somalia. The band starts their tour to promote the new album on Thursday night.
—
Join the conversation on Twitter and Facebook.