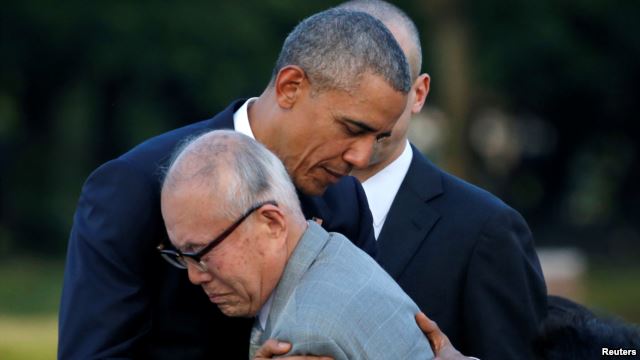 Associated Press
Friday, May 27, 2016
HIROSHIMA, Japan — With an unflinching look back at a painful history, President Barack Obama stood on the hallowed ground of Hiroshima on Friday and declared it a fitting place to summon people everywhere to embrace the vision of a world without nuclear weapons.
As the first American president to visit the city where the U.S. dropped the first atomic bomb, Obama came to acknowledge — but not apologize for — an act many Americans see as a justified end to a brutal war that Japan started with a sneak attack at Pearl Harbor.
Some 140,000 people died after a U.S. warplane targeted wartime Hiroshima on Aug. 6, 1945, and 70,000 more perished in Nagasaki, where a second bomb was dropped three days later. Japan soon surrendered.
"Their souls speak to us," Obama said of the dead. "They ask us to look inward, to take stock of who we are and who we might become."
With a lofty speech and a warm embrace for an elderly survivor, Obama renewed the call for a nuclear-free future that he had first laid out in a 2009 speech in Prague.
This time, Obama spoke as a far more experienced president than the one who had employed his upbeat "Yes, we can" campaign slogan on the first go-round.
The president, who has made uneven progress on his nuclear agenda over the past seven years, spoke of "the courage to escape the logic of fear" as he held out hope for diligent, incremental steps to reduce nuclear stockpiles.
"We may not realize this goal in my lifetime, but persistent effort can roll back the possibility of catastrophe," he said.
—
Related:
The Song That Helped Japan Heal After WWII Gets an Ethiopian Remake
Join the conversation on Twitter and Facebook.