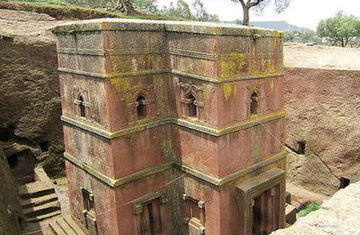 Above: "From the 16th to the middle of the 19th centuries,
virtually the whole of the Middle East was under the suzerainty
of the Ottoman Empire. When one of the Zagwe kings in Ethiopia,
King Lalibela (1190-1225), had trouble maintaining unhampered
contacts with the [Ethiopian] monks in Jerusalem, he decided to
build a new Jerusalem in his land. In the process he left behind one
of the true architectural wonders known as the Rock-hewn Churches
of Lalibela." (From Tadias archives: History of Ethiopian Church
Presence in Jerusalem).
AFP
By Emmanuel Goujon –
LALIBELA, Ethiopia (AFP) — The ancient mystery shrouding Lalibela, Ethiopia's revered medieval rock-hewn churches, could be lifted by a group of French researchers given the go-ahead for the first comprehensive study of this world heritage site legend says was "built by angels". The team will have full access to the network of 10 Orthodox chapels chiseled out of volcanic rock — some standing 15 metres (42 feet) high — in the mountainous heart of Ethiopia. Read more.