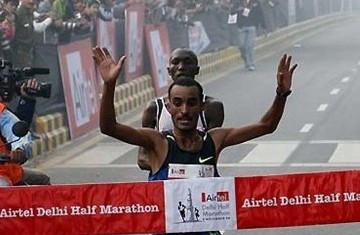 Above: Ethiopia's Deriba Merga, pictured here in IAAF photo
at the Delhi Half Marathon 2008, won the USD 155,000
Sunfeast World 10K Bangalore 2009 event in the elite
men's section clocking 28:13 seconds. Read more at
Deccan Herald.
The Times of India
By Biju Babu Cyriac
1 Jun 2009
BANGALORE: Deriba Merga and Aselefech Mergia, the Ethiopians who kept a low profile in the lead-up to the race day, emerged victorious in contrasting styles in the 2nd Sunfeast World 10k Bangalore on Sunday. Read more.
Related: Merga victorious but misses World 10km record