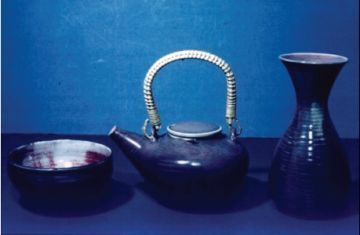 Tadias Magazine
By Lydia Gobena

Updated: June 1, 2009
New York (TADIAS) – Pottery has traditionally played a functional role in Ethiopian society, and ceramists have generally been seen in a less than favorable light. In fact, in certain areas, ceramics was even associated with witchcraft. Ato Mamo Tessema impacted Ethiopians' perceptions of ceramics and ceramicist. His work became seen and continues to be seen as an art form rather than a product with a utilitarian function. Ato Mamo's artwork and career as the founder and curator of the National Museum of Ethiopia has also had a lasting legacy on Ethiopian artists, including Sofia Temesgien Gobena.
This article will discuss Ato Mamo's influence on changing the perception of ceramists and ceramic art in Ethiopia, as well as his influence on the career of his cousin Sofia T. Gobena, who passed away in 2003. This article will further discuss how Sofia's family is seeking to promote the notion of ceramics as an art form in Ethiopia.
Mamo Tessema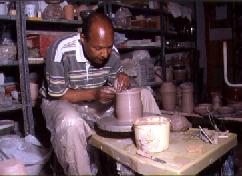 Mamo Tessema. Photo by Harold Dorwin
Mamo Tessema was born on August 24, 1935 in Nekemet, Wollega, Ethiopia. He graduated from Teacher's Training School at His Imperial Majesty's Handicraft School in Addis Ababa. After studying in Ethiopia, he went to the U.S., where he attended the Alfred University, and the New York College of Ceramics. He received his Bachelor's of Fine Arts and Masters of Fine Arts from Alfred. At Alfred, Ato Mamo's studies were not limited to ceramic design, he also studied wood carving, painting, sculpture, welding, graphics, lithography, photography, furniture design, and history of art, among other things. Thus, Ato Mamo's studies provided him with a well-rounded background in art, which is reflected by his artwork.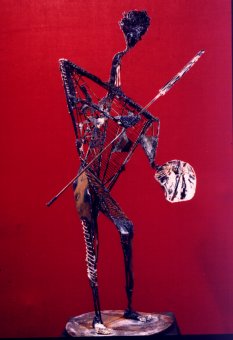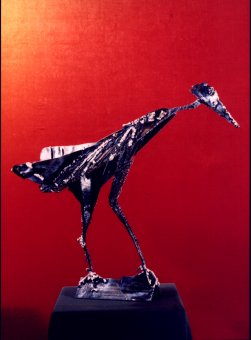 Above Left: "Warrior," welded steel sculpture by Mamo Tessema (Photo credit –
National Archives, Contemporary African Art from the Harmon Foundation, select list
number 239).
Above Right: "Welded Bird," welded steel sculpture by Mamo Tessema
(Photo credit – National Archives,Contemporary African Art from the Harmon
Foundation, select list number 240).
Ato Mamo's work has been exhibited in a number of locations including at the: Alfred Guild at the State College of Ceramics; 1961 UNESCO exhibit; Temple Emanu-El in Yonkers, New York; Washington Heights branch of the New York Public Library; Hampton Institute and Commercial Museum in Philadelphia. The latter five exhibitions were done through the assistance and/or sponsorship of Harmon Foundation, which during its existence from 1922 to 1967, played an instrumental role in promoting the awareness of African art in the U.S. Ato Mamo has also exhibited his work in other countries, including in Ethiopia.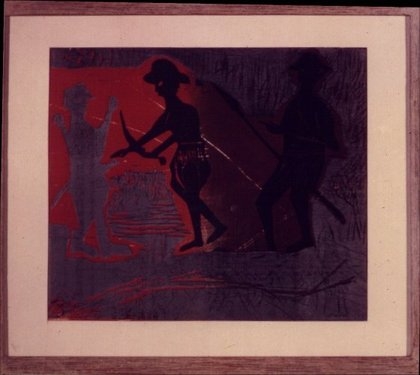 "The Capture," woodcut. By Tessema, Mamo (Photo credit – National
Archives,Contemporary African Art from the Harmon Foundation, select
list number 237.
After returning from studying in the U.S., Ato Mamo became well-known as a ceramist. This resulted in Ethiopians beginning to appreciate ceramics as an art form. To this day, when Ethiopians think of ceramics as an art form, Ato Mamo immediately comes to mind.
Ato Mamo also taught at the Handicraft School after his return to Ethiopia. Ato Mamo further embarked on the ambitious and worthy project of establishing the Ethiopian National Museum, the first museum in the country. Among the purposes of the Museum were to demonstrate the illustrious art and culture of Ethiopia to visitors, and to educate Ethiopian children about their rich history. As the founder and curator of the museum, Ato Mamo traveled throughout the globe, presenting Ethiopian artifacts to the world.
It can be said that his influence is felt by many now, when one travels through the bustling art scene in Ethiopia. There seems to be a greater appreciation of artwork as new private galleries are opened. Ato Mamo saw the importance of Ethiopian art and history, and the need to archive it. For this Ethiopians should be grateful.
Sofia T. Gobena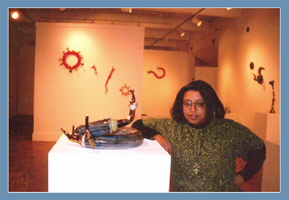 Sofia at her Masters of Arts Show
Sofia Temesgien Gobena was born in Addis Ababa, Ethiopia, on August 18, 1964. She came to the United States of America in July 1972 with her parents, Abebetch B. and Temesgien Gobena. She received her Bachelor of Arts degree in Psychology from Antioch College in Ohio, and a Master of Arts in ceramics and glass from the University of Wisconsin at Madison. She also completed her work for her Master of Fine Arts at the University of Wisconsin. Sofia unexpectedly passed away at the age of 38, though in her short life she was a prolific creator. Here are but few samples of her work.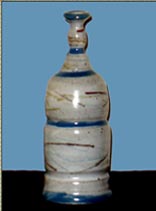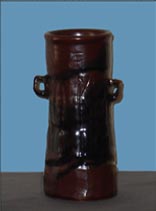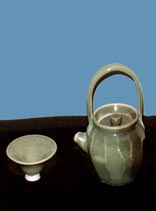 Photos: The Sofia T. Gobena Foundation for Promotion of Education in Ceramics and Fine
Arts
To learn about ceramics in Ethiopia, Sofia visited one of the traditional ceramics producing stations. Sofia's art professors and colleagues described her artistic abilities as transcendent and the kind of talent that comes around perhaps once a decade.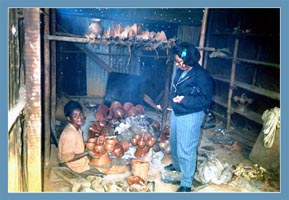 During Sofia's visit to a traditional ceramics station
in Ethiopia.
Although Sofia's life was brief, she was a prodigious artist, leaving behind numerous paintings, sculptures, glasswork, and ceramic pieces that are testaments to the beauty of her creative spirit. While some of this work had previously been seen during her Master of Arts show that was held in Madison, Wisconsin, her artwork received greater exposure at an art show that was held on June 18-20, 2004, in Washington, D.C. at the WorldSpace Corporation. The art show was put together by her family, with the assistance of Mamo Tessema.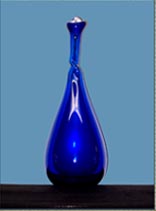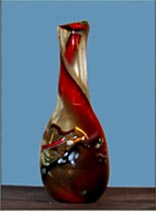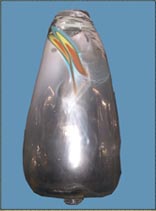 More samples of Sofia's work (Photos: The Sofia T. Gobena Foundation)
Sofia's influences in ceramics were the well-known U.S. ceramicists Peter Voulkos and Daniel Rhodes. Mamo Tessema was also an important influence in Sofia's art. The Sofia T. Gobena Foundation was established in Sofia's memory. The purpose of the foundation is to distribute funds to educational institutions in the United States and abroad that support and encourage the promotion of ceramic arts. Contributions have already been made to the Addis Ababa University Art Department to develop a ceramics department.
In sum, Mamo Tessema's art work and legacy as the founder of the Ethiopian National Museum has had a significant influence on Ethiopia and artists. One such artist was Sofi a T. Gobena, in whose name a foundation was established to promote the ceramic arts.
—
About the Author:
Lydia Gobena, sister of Sofia T. Gobena and a cousin to Ato Mamo Tessema, is a trademark attorney and partner at Fross Zelnick Lehrman & Zissu, one of the top intellectual property law firms in the world. She is also a jewelry artist based in New York City.
Join the conversation on Twitter and Facebook.