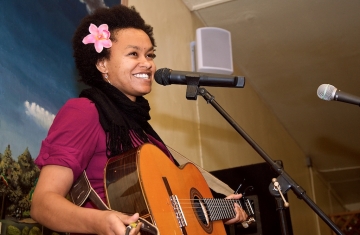 Above: NPR revisits its March interview with Meklit Hadero.
She is scheduled to perform in New York today, June 1st.
(Photo: Tsehai Poetry Jam – 2009, L.A.'s Little Ethiopia)
Tadias Magazine
By Tadias Staff
Updated: Tuesday, June 1, 2010
New York (Tadias) – NPR's Allison Keyes revisits her conversation with Ethiopian-born Meklit Hadero, who appeared on the show back in March.
The San Francisco- based songstress, whose voice has been compared to that of the legendary singer Nina Simon, is currently on tour in the East Coast – where she headlined Bernos' 4th anniversary celebration this past weekend in Washington, D.C. and is scheduled to perform at Le Poisson Rouge in New York on June 1st.
"It is an honor to have Meklit Hadero perform at our 4th year anniversary," said Beshou Gedamu, business partner at Bernos. "She is an amazing artist with a powerful voice that resonates."
In her introduction of Hadero, the NPR host says: "Her sound is a unique blend, it's an infusion of jazz, rich Ethiopian culture, and that artsy San Francisco flavor. It's also got a spicy dash of visceral poetry that paints pictures in your head as you listen. Hadero's first musical performance was just five years ago. At her first show she sang songs that were written by other artists, but now she is writing her own music. Her debut album is called On A Day Like This. Back in March Maeklit joined me to talk about her journey and we started out by playing her song Float and Fall. "
LISTEN

Meklit Hadero "Leaving Soon" music video from Salvatore Fullmore on Vimeo.
–
If You Go:
New York
LE POISSON ROUGE
Meklit Hadero with The Olatuja Project
June 1, 2010| 7 pm
Click here for more info.