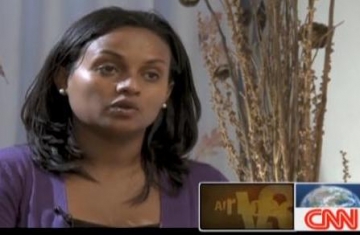 Tadias Magazine
By Tadias Staff
Updated: Wednesday, June 2, 2010
New York (Tadias) – This week CNN's African Voices features Bethlehem Tilahun Alemu, Co-Founder and Managing Director of SoleRebels, Ethiopia's first fair trade footwear company.
Introducing her eco-fashion products, Tilahun described her work to Tadias Magazine last year as "a story of fair trade, eco-sensibility, and great innovative footwear products."
"One of the truly unique and exciting things about soleRebels is that we are green by heritage, and not because some marketing folks told us to be," she said. "We maximize both recycled inputs and craft our materials in the traditional manner — the way they have always been made in Ethiopia – by hand."
She summarizes SoleRebels' ethos in three words: "Roots, Culture, Tires." The shoes are created using indigenous practices such as hand-spun organic cotton and artisan hand-loomed fabric. Tires are also recycled and used for soles. The end result is environmental friendly, vegan footwear. "Historically that is the way things have been done," Tilahun says, and it not only makes great sense to continue the tradition, it also has generated income for local artisans.
African Voices, which explores the lives and passions of Africa's most engaging personalities, airs weekly on CNN International: Saturdays at 11.30 & 18.30 GMT and on Sundays at 17.00 GMT.
WATCH
Video: Turning old tires into shoes (7:10)

Video: Young SoleRebel (8:07)

Video: Creating window to world market (7:24)