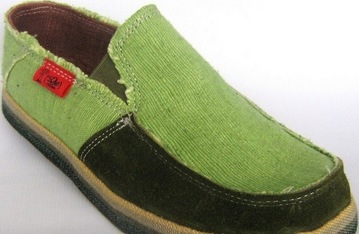 Above: Sole Rebels, Ethiopia's first fair trade fashion company,
has won this year's Eco-Bold Green Award. (Exclusive photo)
Tadias Magazine
By Tadias Staff
Published: Sunday, August 15, 2010
New York (Tadias) – EcoBold, the Silicon Valley-based provider of online video reviews of green and eco-friendly products, has named Sole Rebels, Ethiopia's environmentally-sensible footwear brand, as winner of its first Annual Green Awards under "Best Shoes" category.
According to the company: "The award recipients represent an array of green companies…judged on a series of 'green qualifications,' which scrutinized their product and examined company-wide practices such as promoting green initiatives to employees, packaging footprint, and social causes impacting the environment."
Bethlehem Tilahun Alemu, Co-founder and Managing Director of Sole Rebels, said her team welcomes the news. "We are really honored and excited. When I told the team here, they were sort of in shock," she told Tadias via email. "Then, big smiles, lots of them!"
According to EcoBold's Chief Executive, contestants were primarily considered on the basis of the greenness of their products as well as eco-sensible business practices. "The contributions made by these green companies make a tremendous difference in how people produce, consume, and think about the environment," Steffany Boldrini, EcoBold's CEO and Founder, said in a statement. "Their level of commitment and dedication to making a difference with sustainable and eco-friendly products are reflections of company-wide green initiatives towards a greener future."
Bethlehem said her company accepts the accolade as a recognition of the brand's message that organic living is part of the nation's way of life. "It affirms our belief that we are green by heritage," she said. "We utilize Ethiopia's immense, diverse, sustainable and eco-friendly materials and cultural arts to craft amazing footwear for the global market."
EcoBold is a California based e-commerce company that "creates awareness of sustainable and green products by providing online video reviews of various green and eco-friendly household products."
Images: Exclusive photos from Sole Rebel's spring 2011 collection provided to Tadias by the company.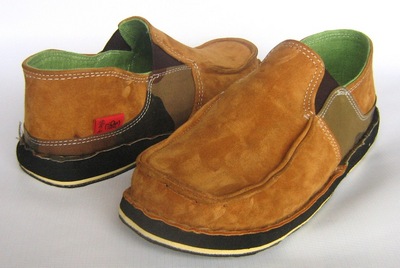 Photo courtesy of Sole Rebels (Spring 2011 collection)


Photo courtesy of Sole Rebels (Spring 2011 collection)
-
Related story:
CNN's African Voices features Bethlehem Tilahun Alemu

Watch: Turning old tires into shoes (7:10)

Video: Young SoleRebel (8:07)

Video: Creating window to world market (7:24)