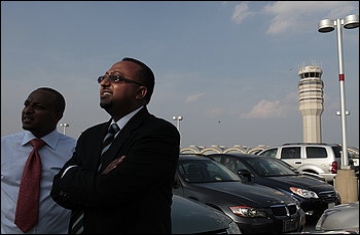 Tadias Magazine
By Tadias Staff
Published: Monday, August 16, 2010
New York (Tadias) – The Washington Post features Henok Tesfaye, an Ethiopian American parking mogul who started in valet-parking to become one of the biggest players in Washington, D.C.'s parking industry. Tesfaye's company, U Street Parking, has been "awarded a lucrative contract to oversee 37,000 public parking spaces at Dulles International and Reagan National airports, including four garages, three surface lots and a valet service."
Tesfaye, whom Tadias highlighted last year when he hosted a fundraiser for the reelection bid of Mayor Adrian M. Fenty at Etete, said winning the business was an emotional experience. "When I got the call that we had got the contract, I cried," Henok told the paper, from his office in a rowhouse on Rhode Island Avenue NE. "We were a long shot. We've always been a long shot."
But those who know him in the community consider him to be a trailblazer.
"He's the leading young entrepreneur in our community. . . . I know him from when he was a parking attendant, and it's great to see these types of businesses grow," said Dereje Desta, the publisher of Zethiopia, an Ethiopian newspaper in the District.
Read the story at Washingtonpost.com:
Young parking lot czar is the face of Ethiopian success in the D.C. area.
Related from Tadias Archives
Photos from Mayor Adrian M. Fenty's Fundraiser at Etete