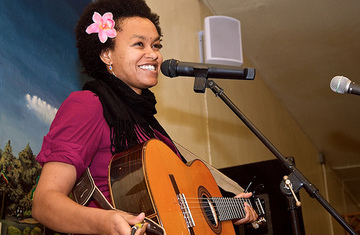 Above: Singer-songwriter Meklit Hadero at Tsehai Poetry Jam,
May 31, 2009 @ Messob Restaurant in L.A.'s Little Ethiopia.
Tadias Magazine
By Tadias Staff
Published: Wednesday, June 3, 2009
New York (Tadias) – An intergenerational poetry reading and panel discussion examining four decades of Ethiopian immigrant's life in the U.S was held this past weekend in Los Angeles.
The Tsehai Poetry Jam, which was presented in cooperation with PEN USA, the Ethiopian Heritage Foundation and Tsehai Publishers, was held at Messob Restaurant & Lounge, located in the official neighborhood of Little Ethiopia on Fairfax Avenue.
A similar event in Chicago is scheduled for early July in conjunction with the The Fourth Annual Tsehai conference.
Below are photo highlights from the L.A. event courtesy of Tsehai Publishers.
Photos by Richard Beban