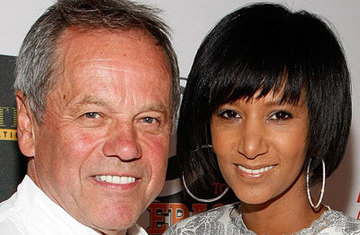 Above: Wolfgang Puck, 59, Restaurateur, and his second
wife Ethiopian-born Gelila Assefa Puck, 39, High-End Clothier,
share the distinction of being one of several power couples
featured on the Forbes Magazine's list of 'Married Celebrity
Entrepreneurs.'
'Could you imagine if I didn't work and just sat and home and waited for him once my kids went to bed?' asks Gelila Assafa Puck, second wife of celebrity chef Wolfgang Puck. Ethiopian-born Assefa Puck owned her own Los Angeles couture store from 1998 through 2001. In 2006, she launched a line of high-end handbags, manufactured in South Africa, that sell for $7,000 to $30,000. (She says she hopes to return to fashion design when her 2- and 4-year-old sons are old enough for school.) If that weren't enough, she also operates a non-profit in Addis Ababa, Ethiopia, that sponsors secondary schooling for about 400 children.
See more Married Celebrity Entrepreneurs at Forbes.com.