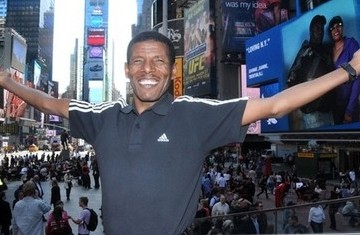 Above: Gebrselassie has accomplished just about everything
a runner can accomplish, except winning the New York City
Marathon. The Ethiopian great will run the race in November.
Geb set to take a bite out of Big Apple
By Joe Battaglia | Universal Sports
June 3, 2010
World-record holder Haile Gebrselassie of Ethiopia talks about his affinity for the Big Apple and his training for the ING New York City Marathon. Watch the Video at Universalsports.com
—–
Related:
Ethiopian men finish 1-2-3 in Bolder Boulder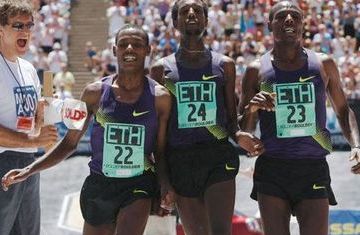 USA Today
By Arnie Stapleton, AP Sports Writer
BOULDER, Colorado — Lelisa Desisa of Ethiopia has won the men's Bolder Boulder 10-kilometer race, crossing the finish line hand-in-hand with fellow countrymen Tilahun Regassa and Tadese Tola.
The trio broke away from two Kenyans in the third mile Monday and entered Folsom Field hand-in-hand. Expecting a sprint to the finish, the crowd of 50,000 roared ever louder when it became apparent the Ethiopians instead would cross the tape together.
Desisa finished in 29 minutes, 16.93 seconds, officially 0.03 seconds ahead of 2009 champion Regassa and 0.15 seconds in front of Tola.
"We decided if no Kenya and if we are three, we finish together," Desisa said.
As race officials attempted to separate them just past the finish line into first, second and third place, the three runners adamantly refused to be sorted into any order.
"We didn't even try to race each other," said Regassa, the 2009 champion. "We tried to go together." Read more.