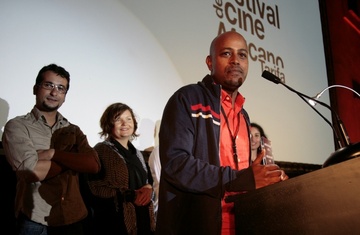 Tadias Magazine
By Tadias Staff
Published: Thursday, June 3, 2010
New York (Tadias) – Three Ethiopian films have won coveted awards at the 7th African Film Festival in Tarifa, Spain.
Haile Gerima's Teza won the "Best Full Length Movie" award, while Atletu, a film about the legendary long distance runner Abebe Bikila produced by Rasselas Lakew & D.Frankel received the "Prize of the Audience" award.
In the Short Film category, Zelalem Woldemariam's Lezare (For Today), a 12 minute movie which explores the link between environmental degradation and poverty, was the recipient of the "Best Short Film Youth Jury Award."
The winners were selected from a pool of 15 nominees from over 10 countries by an international jury of experts. They received cash prizes ranging from 2,000 to 15,000 Euro. The competition took place from May 21st to 29th in Spain.
Below is the full list of winners: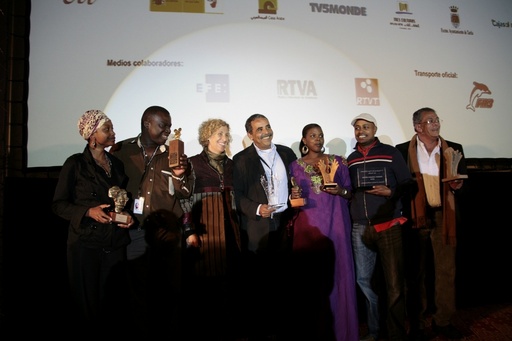 7th Tarifa African Film Festival award winners (Photo Courtesy of Zeleman Production)
1. Best Female Actress, IMANI from Uganda, directed by Caroline Kamya
2. Best Actor, FROM A WHISPER from Kenya, directed by Wanari Kahiu
3. Best Director, IMANI from Uganda, directed by Caroline Kamya
4. Best Short Film Young Jury Award, LEZARE, directed by Zelalem Woldemariam
5. Best Short Film RTVA Award, LE ICHA from Tunisia, directed by Walid Taya
6. Best Documentary Film, LES LARMES DE L'EMIGRATION from Senegal, by
Alassane Diago
7. Prize of the Audience, ATLETU from Ethiopia, by Rasselas
Lakew-D.Frankel, and EHKI YA SHAHRAZADE from Egypt, by Yousry Narsrallahr
8. Best Full Length Movie, Teza from Ethiopia, by H. Gerima
–
Learn more at Festival de Cine Africano de Tarifa.
Related:
African Film Festival NY Features Zelalem Woldemariam's "Lezare" (TADIAS)
Join the conversation on Twitter and Facebook