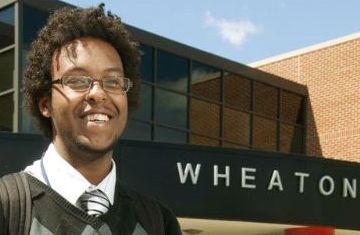 Above: Leuk Mulugeta Woldeyohannes, 18, poses in front of
Wheaton High School, where he is a senior in the bioscience
academy. Woldeyohannes was recently awarded the Gates
Millennium Scholarship, a prestigious scholarship for high-
achieving minority students. He plans to use it to study
medicine at Cornell University in the fall. (The Gazette)
The Gazette
by Amber Parcher | Staff Writer
Wheaton High senior Leuk Woldeyohannes has been around medicine all his life. As a young boy growing up in Ethiopia, he visited rural hospitals in Africa's vast countryside with his parents, both doctors performing charity medical work. And when his mother got sick and eventually died from breast cancer, 9-year-old Leuk was by her side. Then, when his family moved to the states two years ago to give Woldeyohannes and his older brother a chance at a better education, Woldeyohannes saw a chance to come into his own. He joined Wheaton High's bioscience academy, earned a prestigious Howard Hughes Medical Institute internship to research autism in mice and recently won a Gates Millennium Scholarship award that will pay for his four years of tuition to study medicine at Cornell University in New York. It's all been a whirlwind ride for Woldeyohannes, who has only lived in the United States since 2008. "The scholarship is a huge help for my family," Woldeyohannes said of the Gates Scholarship, which is funded by a $1.6 billion grant from the Bill & Melinda Gates Foundation and aims to boost minority attendance in higher education. He was one of 1,000 students across the nation picked for the scholarship from a pool of more than 20,000 applicants. Read more.