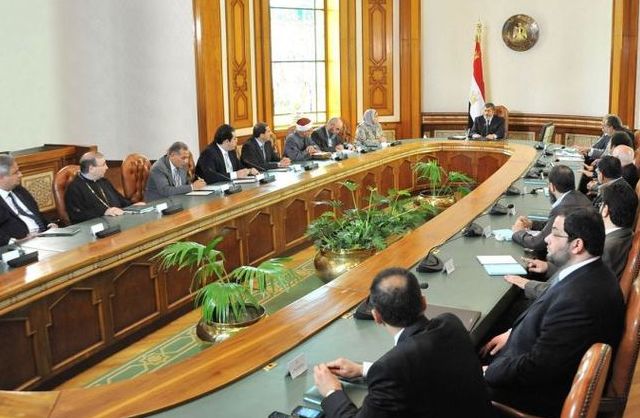 By Associated Press
Updated: Wednesday, June 5th
ADDIS ABABA, Ethiopia — Egyptian officials tried to cool tensions with Ethiopia Wednesday over the new Nile River dam project by highlighting its "neighborliness" as the Ethiopian prime minister's spokesman insisted that nothing would stop the dam from being completed upstream from Egypt, which is wholly dependent on Nile River water.
Egypt fears a diminished flow from Africa's largest dam and hydropower station but Egyptian President Mohammed Morsi said Egypt respects Ethiopia and will not engage in any aggressive acts against the East African nation. Egyptian politicians had suggested the country should sabotage the project in a meeting with the president Monday.
Getachew Reda, a spokesman for Ethiopian Prime Minister Hailemariam Desalegn, said late Tuesday that Egyptian leaders in the past have unsuccessfully tried to destabilize Ethiopia.
Read more at The Washington Post.
FOX News: Egyptian politicians caught on air threatening, taunting Ethiopia
Daily Nation: Egypt warns 'all options open' on Ethiopia dam
—
Egypt Presidential Aide Apologizes After Ethiopia Remarks Caught on Live TV (VOA News)
June 04, 2013
Egyptian politicians have proposed ways to sabotage an Ethiopian dam project in talks that were televised live without the politicians' knowledge.
An aide to Egypt's president apologized for failing to tell the politicians they were on the air Monday during the meeting with President Mohamed Morsi in Cairo.
The aide said on Twitter that a decision was made at the last minute to air the meeting live, due to the importance of the topic.
Ethiopia has angered Egypt with its plans to construct a massive hydroelectric dam on the Blue Nile, a key Nile River tributary.
During Monday's meeting, an Islamist party leader suggested Egypt support Ethiopian rebels to exert pressure on Addis Ababa. A liberal politician suggested spreading rumors that Egypt was buying military planes for possible airstrikes.
The Associated Press reports President Morsi did not directly react to the suggestions. He did warn that he would not allow Ethiopia's dam project to reduce his country's share of water from the Nile.
Last week, Ethiopia began diverting water from a Nile tributary to allow for construction of the nearly $5 billion dam. The country's water minister has said the dam poses no threat to Egypt or Sudan, which both depend heavily on the Nile for their water supply.
More than two-thirds of the Blue Nile tributary originates in Ethiopia. But colonial-era treaties gave Egypt and Sudan the majority of the Nile's water.
Ethiopia began constructing the dam two years ago with the goal of producing power for itself and nearby countries.
ABC News: Egyptian politicians caught discussing plan to sabotage Ethiopian dam
—-
Egyptian Cabinet Caught On Camera Telling President Morsi To Sabotage Ethiopia
Associated Press
Published: June 3rd, 2013
CAIRO – Politicians meeting with Egypt's president have proposed hostile acts against Ethiopia, including backing rebels and carrying out sabotage, to stop it from building a massive dam over the Nile River.
Some of the politicians attending Monday's meeting with President Mohammed Morsi appeared unaware it was being carried live on TV. Morsi did not directly react to the suggestions. Morsi called the meeting to review the impact of Ethiopia's dam on Egypt's share of the Nile's water.
Read more.
—
Related:
Egyptian politicians caught in on-air Ethiopia dam gaffe (BBC News)
Report Finds Renaissance Dam Won't Significantly Affect Egypt, Sudan (AP)
Ethiopia studies on Nile dam fall short, Egypt says (Reuters)
Ethiopia to Accommodate Nations Concerned by Nile Dam Project (Bloomberg News)
CPJ: Reporter Covering Evictions Near Renaissance Dam Detained (Africa Review)
Nile River Dispute Between Egypt, Ethiopia Sparks Tensions (VOA News)
Ethiopia Diverts Flow of Blue Nile to Build Dam (AP)
Ethiopia diverts Blue Nile for controversial dam build (BBC News)
Fear in Egypt as Ethiopia builds giant dam on Nile (The Boston Globe)
Watch: Communications Minister Bereket Simon on the Nile issue (Al Jazeera English)

—
Join the conversation on Twitter and Facebook.