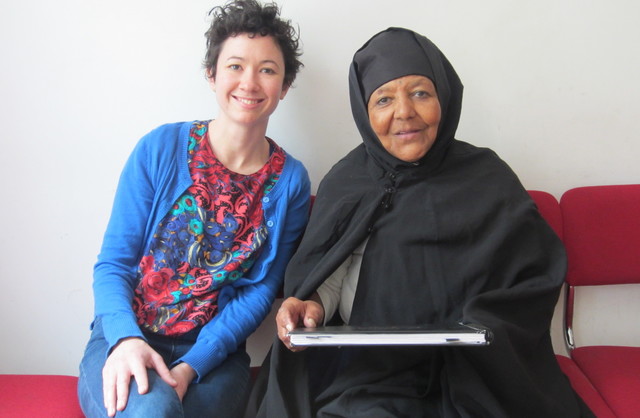 Tadias Magazine
By Tadias Staff
Updated: Tuesday, June 4th, 2013
New York (TADIAS) – Mary Sutton who studies piano performance at Portland State University in Oregon came across the work of the legendary pianist and composer Emahoy Tsege Mariam Gebru, having listened to volume 21 of the Ethiopiques CD series released in 2006, which featured 16 of the Jerusalem-based Ethiopian nun's original pieces.
Mary grew up playing piano and is a graduate of the New England Conservatory. She recently told Tadias that she was immediately drawn to Emahoy's "unique" sounds before realizing that there was no published sheet music of her compositions available for other pianists to play. That was prior to her trip to Israel in April to meet with Emahoy, who gave her the permission to create one.
"Initially I tried to get in touch with Emahoy by email," Mary recalled. "She wrote me back, but at the time she was having computer problems so her reply came back blank." She added: "I followed up with a letter without knowing she would receive them." Eventually the two were able to connect via Skype and meet in person. "I was introduced to her by an Israeli journalist," Mary said.
Returning to Jerusalem this summer to begin the process of readying the manuscripts for publication, Mary shared that she is currently raising funds on Kickstarter for the project. "This Kickstarter is just the beginning of a lifetime of a work which has fallen into my hands," she noted via the online platform. "And as all of Emahoy's music serves a charitable purpose, I will not be getting paid."
Emahoy, who was ordained a nun at the age of 21 at the Guishen Mariam monastery in the Wollo region, moved to Jerusalem in 1984 at the height of the military Derg regime in Ethiopia. However, that was not her first forced exile from her country. According to the Emahoy Music Foundation, she was taken as a prisoner of war by the Italians in 1937 and deported along with her family "to the island of Asinara, north of Sardinia, and later to Mercogliano near Naples."
Emahoy was born "Yewubdar Gebru" in Addis Abeba on December 12, 1923 to a privileged family; her father was Kentiba Gebru, mayor of Gonder and vice president of Ethiopia's first parliament under Emperor Haile Selassie. Her mother was Kassaye Yelemtu. "Yewubdar was sent to Switzerland at the age of six along with her sister Senedu Gebru," the foundation notes on its website. "Both attended a girls' boarding school where Yewubdar studied the violin and then the piano. She gave her first violin recital at the age of ten. She returned to Ethiopia in 1933 to continue her studies at the Empress Menen Secondary School."
After the war she resumed her musical studies in Cairo, under a Polish violinist named Alexander Kontorowicz. Later she returned to Ethiopia accompanied by Kontorowicz and she served as administrative assistant in the Ministry of Foreign Affairs as well as the Imperial Body Guard where Kontorowicz worked as the director of the band. Her first record was released in Germany in 1967.
It was five years ago this summer, on July 12, 2008, that Emahoy, then 85-years-old, gave a rare public presentation at the Jewish Community Center in Washington, D.C., playing live for the first time in 35 years. "Her extraordinary performance was viscerally and emotionally moving," wrote Makeda Amha, her great niece, in an article published in Tadias Magazine following the concert. "Her astounding ability as a classical pianist and her skill to warmly express "Reverie," was a pleasure to listen to, as was "Presentiment," a sweet, poetic Sonata in B-Flat Major."
Below is a video of Emahoy playing Presentiment filmed by Omer Gefen in April 2013 at the Ethiopian monastery in Jerusalem where she currently lives.

—
To learn more and support Mary Sutton's project, please visit: www.kickstarter.com.
Related:
From Jerusalem with Love: The Ethiopian Nun Pianist (TADIAS)
Emahoy Tsegué-Mariam Guebrù: Jersualem's Best Kept Musical Secret for 30 Years
—
Join the conversation on Twitter and Facebook.