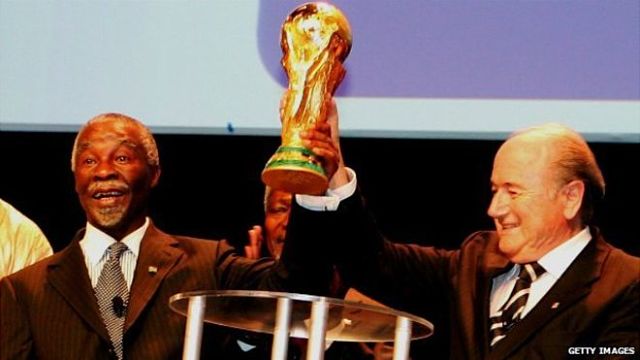 By Ed Thomas
A BBC investigation has seen evidence that details what happened to the $10m sent from Fifa to accounts controlled by former vice-president Jack Warner.
The money, sent on behalf of South Africa, was meant to be used for its Caribbean diaspora legacy programme.
But documents suggest Mr Warner used the payment for cash withdrawals, personal loans and to launder money.
The 72-year-old, who has been indicted by the US FBI for corruption, denies all claims of wrongdoing.
Fifa says it is co-operating with the investigation.
And South Africa's Football Association has issued a detailed statement denying any wrongdoing.
The papers seen by the BBC detail three wire transfers by Fifa.
In the three transactions – on 4 January, 1 February and 10 March 2008 – funds totalling $10m (£6.5m) from Fifa accounts were received into Concacaf accounts controlled by Jack Warner.
At the time, he was in charge of the body, which governs football in North and Central America and the Caribbean.
Read more and watch video at BBC News »
—
Related:
African Union Chair Dlamini-Zuma Implicated in Fifa World Cup Bribe Scandal (Mail & Guardian)
Join the conversation on Twitter and Facebook.