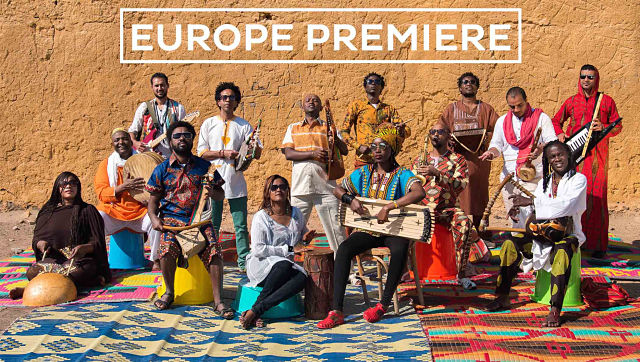 Press Release
The Nile Project
The Nile Project European Tour Kick-off in Belgium & UK
This June, the Nile Project will make its European premiere with concerts in Brussels, Bradford, and London. [The group] will also be performing on BBC Radio 3 on June 17 at 11pm (UK Time)
Described as "a committed, euphoric international coalition" by the New York Times, the Nile Project brings together artists from the 11 countries sharing the world's longest river to combine their instruments, languages, scales and rhythms in one of the tightest cross-cultural collaborations in music. The project's mission is to inspire, inform and empower Nile citizens to collaboratively cultivate the sustainability of their shared ecosystem.
The Nile Project has designed an innovative musical process that allows its artists to self-organize by leveraging each other's strengths in order to unearth a unique sound representative of the Nile watershed as a whole. By creating award-winning music within a participatory leadership framework, the Nile Project Collective provides a blueprint for new ways in which Nile citizens can organize themselves across sectors to generate creative and mutually-beneficial system-wide solutions in response to their shared hydro-political challenges.
Now in its 4th year, the Nile Project is growing beyond its musical program to strengthen its mission of Nile stewardship. As its musicians will be performing in the UK, the initiative will be announcing its inaugural class of Nile Fellows in partnership with universities in Egypt, Ethiopia, Uganda, Kenya and Tanzania. Rooted in the same principles of its musical collective, the Nile Fellows program aims to translate the group's musical inspiration into an engine of environmental innovation to develop creative solutions to Nile sustainability.
THE MUSICIANS
Adel Mekha / Egypt, Nubia / Vocals, Percussion
Ahmed Omar / Eritrea, Egypt / Bass, Tanbour
Hind El Taher / Sudan / Vocals
Claude Ciza / Burundi / Percussion, Vocals
Dave Otieno / Kenya / Electric Guitar, Vocals
Dawit Seyoum Estifanos / Ethiopia / Krar, Bass Krar
Endalekachew Nigusie / Ethiopia / Masenko
Kasiva Mutua / Kenya / Percussion, Vocals
Msafiri Zawose / Tanzania / Limba, Zeze, Filimbi, Percussion, Vocals
Nader El Shaer / Egypt / Kawala, Keyboard
Roza Kifle / Ethiopia / Vocals
Saleeb Loza / Egypt / Vocals
—
If You Go:
Click here for the Nile Project's Tour Calendar
Join the conversation on Twitter and Facebook.