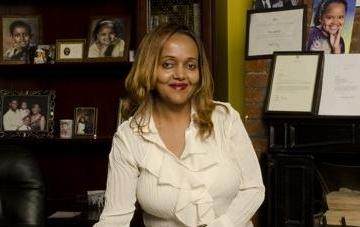 Above: Tutu Belay's Ethiopian Yellow Pages have helped to
make her a prominent member of DC's Ethiopian community.
The Washington Post – Lifestyle
By Emily Wax,
Published: June 8
With her bulky Ethiopian Yellow Pages jostling in the passenger seat, "Mama Tutu" Belay lurches her black Mercedes to a stop. She squints suspiciously at a new bakery operating in a basement on Georgia Avenue that claims to use clay plates to make an authentic version of injera, the spongy bread that is a dietary staple of her homeland. "It's suspect!" Mama Tutu decrees while looking over the bakery, which is painted pumpkin orange and flies American and Ethiopian flags. "I need to make sure it's legit before it goes anywhere near my book."
Her book is the Ethiopian Yellow Pages, which includes hundreds of the Ethiopian American businesses that have taken over once-blighted storefronts across the Washington region. Read more at The Washington Post.