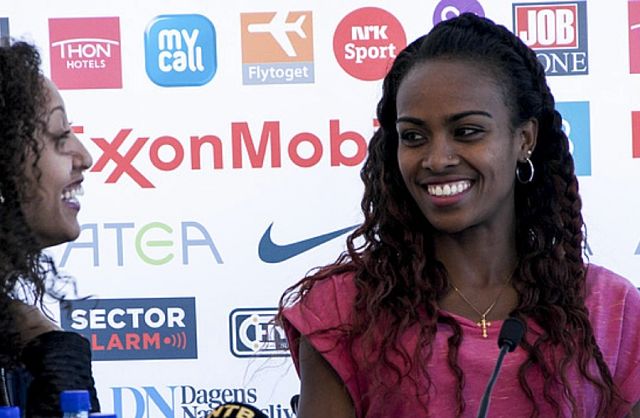 Associated Press
BY CIARAN FAHEY
OSLO, NORWAY — Genzebe Dibaba's bid to take her elder sister's 5,000-meter world record at the Bislett Games ended in disappointment when she finished more than 10 seconds off the mark on Thursday.
Having declared her intention to beat older sister Tirunesh's record of 14 minutes, 11.15 seconds, set in the same stadium in 2008, Dibaba won in 14:21.29, ahead of Ethiopian compatriot Senbere Teferi, and Kenya's Viola Jelagat Kibiwot.
"I tried hard but the pacemakers could not do what I needed. Of course, cold and wind also played a role, but overall I'm OK with the race. I did my best," Dibaba said.
Dibaba, who set the indoor 5,000 world record in Stockholm in February, added, "I'm not sure whether I'll try to break my sister's record again. My full concentration will go towards the Beijing world championships (in August)."
—
Related:
Dibaba World Record Tradition The Aim for Genzebe in Oslo (Athletics-Africa)
The Dibaba Sisters at the 2014 World Athletics Gala in Monaco (Photos)
Join the conversation on Twitter and Facebook.