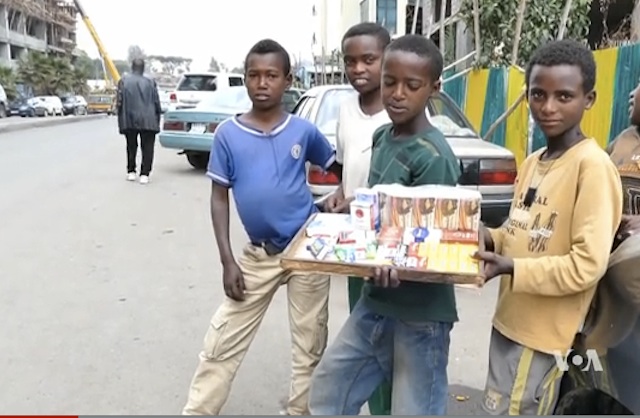 By Marthe van der Wolf
June 12, 2015
ADDIS ABABA — As countries observe World Day Against Child Labor on June 12, many children in developing countries below the age of 18 have to work to help their families or just to take care of themselves.
In Ethiopia many children are helping their parents on the land or roaming the streets trying to sell goods or shining shoes.
Alula Pankhurst, who has done years of research on the subject, said it's culturally accepted for Ethiopian children to support their families. Pankhurst said this differs from kids who have to do worse forms of labor.
"Children get pushed into working due to the poverty in the household. But also when the household faces a shock with the death of family member, particularly the breadwinner," he said.
A center on the outskirts of Addis Ababa was set up by the local organization Forum on Sustainable Child Empowerment. It takes in under-aged girls who have had to prostitute themselves for a living.
In Ethiopia's capital city, they are less visible than the shoe shiners and more vulnerable than those children who are working to support their families.
Belaynesh, 17, came from a rural village and became a domestic worker in the capital city. But she decided to leave her job as a maid because her employer treated her badly.
"As a housemaid I didn't like my job. Back then I had friends who were in the business of prostitution and they told me of the high income," she explained. "So I quit my job and joined them."
The Forum on Sustainable Child Empowerment makes sure the girls are taken care of and receive an education. They are also taught skills. Endalelgn, 18, just received her certificate, and now works in a barbershop – despite earning only a third of what she earned on the street. Endalelgn said she will never go back.
"There may be a lot of money involved in what we did but it was not healthy. Now we earn little money but life is good now. I do not want to return to what I did in the past," she said.
Several Ethiopian organizations, though, said that working on rights issues is limited due to the country's 2009 Civil Societies law, which makes it more difficult to improve conditions for those children caught up in child labor.
—
Join the conversation on Twitter and Facebook.