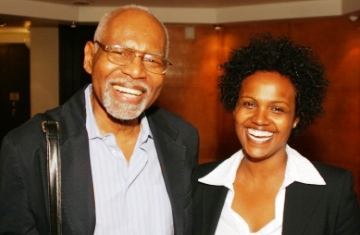 Above: Historian William Scott (left) & Beejhy Barhany (right),
director of the Beta Israel of North America Cultural Foundation.
By JODY BENJAMIN
Photos by Jeffrey Phipps & Meron Dagnew
NEW YORK – A revealing look at the multi-billion dollar coffee business and the compelling story of how Ethiopia, led by Emperor Menelik II, defeated invading Italians bent on colonization were the main features of the 4th Annual Sheba Film Festival that took place June 9 and 10 in Harlem, New York City.
The festival, which seeks to promote greater awareness of the Beta Israel, or Ethiopian Jews, as well as the history and culture of Ethiopia in general, has been drawing larger audiences each year, said its founder and director Beejhy Barhany.
"We are trying to show more aspects of Ethiopian culture and history," said Barhany, director of the Beta Israel of North America Cultural Foundation, Inc. which sponsors the festival.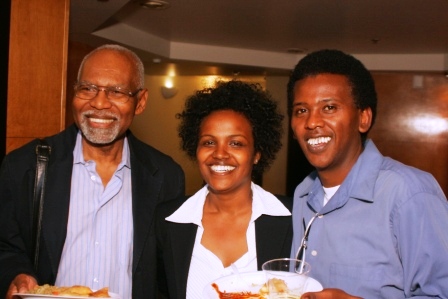 Above: Historian William Scott (left), Beejhy Barhany, director of the Beta
Israel of North America Cultural Foundation, Inc. (middle), Liben Eabisa,
Founder & Publisher of Tadias Magazine (right).
Over the years, Barhany has screened film and videos by and about the Beta Israel community in Israel, Ethiopia, and other places worldwide.
On Saturday night, festival goers saw a preview of a new work in progress by film-maker Avishai Mekonnen, who left Ethiopia for Israel as a child during Operation Moses in 1984.
Mekonnen's documentary, tentatively titled Judaism and Race, chronicles his journey from Africa to Israel, and finally to the U.S. Along the way, he begins to learn the intimate and inspiring stories of other African, African American, Asian and Latino Jews struggling against invisibility.
"This is so great,'' said Mekonnen, 33, in speaking about the Sheba festival.
"This festival shows how diverse Africa is. My experience in the US is that most people here don't understand that. They only know the negative things about Africa — that they are poor, they need money and stuff like that — but nothing about the culture or the positive things."
On opening night, Barhany served coffee spiced with cinnamon and cloves to movie goers arriving for the screening of Black Gold: Wake Up and Smell the Coffee outside the Faison Firehouse Theater. The documentary follows the manager of the Oromia Coffee Farmers Cooperative, Tadesse Meskela, in his efforts to improve living conditions for 74,000 Ethiopian farmers. The worldwide coffee industry, worth $80 billion, according to the filmmakers, is dominated by multinational corporations while farmers and growers in many countries around the world face near starvation. Nowhere is this more true than in Ethiopia, where coffee first originated in the Kaffa region, according to the film-makers.
On Sunday, the festival continued with a re-screening of Adwa by the independent director Haile Gerima, first released in 1999. A diverse audience of about two hundred people attended the free screening in the Langston Hughes Auditorium of the Schomburg Center for Research in Black Culture.
Gerima narrates the film in Amharic with English subtitles. It opens with a dramatic shot of the jagged mountain range that in 1896 was the site of a climactic battle between Emperor Menelik II and Italian forces, with Gerima explaining that he learned the story of Adwa "while sitting at the knee of my father." It continues by elaborating the story of a conflict that started with a treaty that the Italians tried to make with Menelik that the Emperor rejected because he felt it impinged on Ethiopian sovereignty.
Adwa also portrays the impact the battle had outside Ethiopia, noting its influence on the nascent Pan African movement across the African Diaspora. Gerima flashes photos of the first Pan African Congress and some of the major figures later associated with that movement such as W.E.B. Du Bois, Paul Robeson, Kwame Nkrumah and Marcus Garvey.
During a brief panel discussion after the screening, Howard Dodson, director of the Center for Research in Black Culture, said the battle was "one of two critical moments that transformed the consciousness of the African world." The other was World War I, he said, which sparked the movement of black folks toward decolonization. "No battle had the impact that Adwa had,'' said Dodson.
Historian William Scott, who has written extensively about the Italo-Ethiopian conflict of the 1930s, pointed out that the earlier battle of Adwa is less known today. At the time, however, its significance was not lost on many African Americans. According to Scott, the battle was mentioned in a popular 1906 play titled 'Abyssinia' that starred the legendary vaudeville performer Bert Williams. The scholar W.E.B. DuBois also incorporated elements of the Adwa story into pageants he organized to educate people about the battle against colonialism in Africa, he said.
When Italy invaded the country a second time in 1936, there were large rallies, marches and efforts to raise funds in support of Ethiopia – mostly in black communities across the United States.
"These pivotal points in our history have tended to be forgotten," said Scott. "But the entire African world raised up in support for the Ethiopian cause. The epicenter of this rising up was right here in Harlem."
Scott noted that African American awareness of Ethiopia was not new: it stretched back to at least the 18th century and the association enslaved Africans made with the biblical Psalm that "Ethiopia shall stretch forth her hand unto God."
Picking up on that theme, the third panelist, rabbi Hailu Paris, noted that Ethiopia had long been an important symbol for African American Hebrews. Paris was born in Addis Ababa and adopted by African Americans that had emigrated to Ethiopia but who were forced to flee because of the second Italian attack when he was just a baby. For that reason, he was raised in New York City where he has since become a leading figure among black Hebrews.
He spoke of two early leaders among the Hebrews: rabbis Arnold Ford and Wentworth A. Matthew.
"Because of Marcus Garvey's predictions and prophecies, Ford and Matthew saw fit to join his movement,'' said Paris. "Matthew had a church that turned into a synagogue and the beginning of a connection between African Americans and Ethiopians, at least within a religious context, began with these two men.''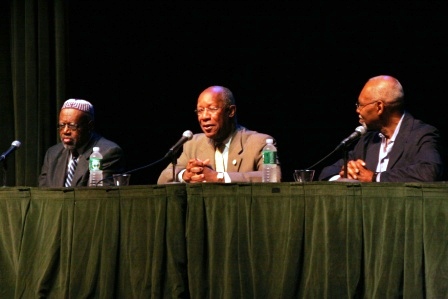 Above: Rabbi Hailu Paris (left), Howard Dodson, director of the Schomburg
Center for Research in Black Culture (middle), Historian William Scott (right).
After the panel discussion, folks lined up in the Schomburg lobby for an Ethiopian snack of injera bread with lentils and a cup of Tej honey wine. Drummers played in the background while people mingled. There was a palpable excitement in the room.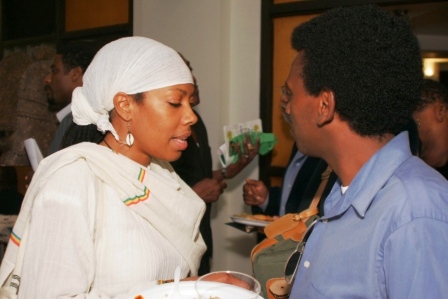 Above: Monica Wiggan (left) & Liben Eabisa (right)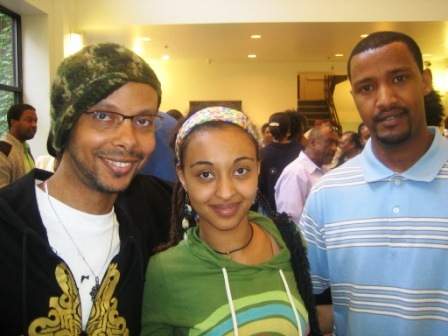 Above: Benniam (NYC), Meron Dagnew, and Mesfin Addi
"I was very, very moved,'' said Nemo Semret, as he lined up for food. "I really liked the chanting of the warriors and the singing afterwards, which is like a recounting. Just to hear the names of the heroes and what they did and the language with which they were described was inspiring. That is what it is supposed to do, no?"
Other viewers described similar reactions.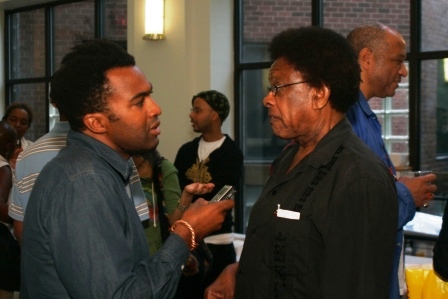 "I enjoyed the film immensely for the historical content that was given,'' said Bakbakkar Yehudah, of Newark. "I wasn't familiar with this story, so I am pleased to know this history."
One of the many smiling faces in the crowd belonged to 26 year old Ayda Girma, a graphic designer who volunteered for the festival and who was dressed in traditional Ethiopian clothing.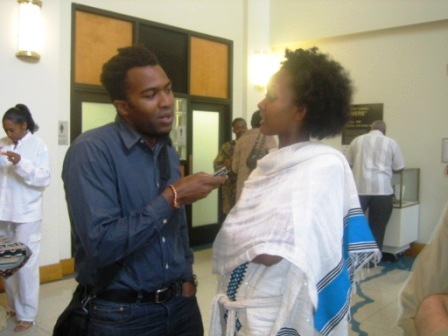 "I'm not Jewish. I'm not religious in that way," said Girma, of Brooklyn. "But it is important to encourage and support events like this for Ethiopians and non-Ethiopians that are curious," she said.
"It was very important to show this film,'' said Dr. Faye Bennett Moore, of Harlem. "Very few young people have read or envisioned any of this information about Adwa."
Near the drummers sat two well-known and respected elders of the Harlem community: the Ethiopian-born historian, Yosef ben Jochannan and Mother Kefa Nepthys.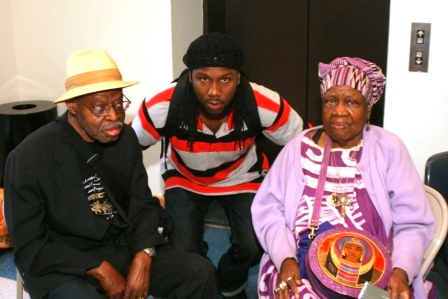 Above: The Ethiopian-born historian Yosef ben Jochannan (left), Jeffrey Phipps
- (middle) and Mother Kefa Nepthys (right).
Asked for a comment on the day's activities, ben Jochannan said: "It is important that Africans recognize themselves and learn from each other first."
Mother Kefa said she was particularly pleased with the panel discussion.
"This is a beginning and I hope it will continue and that we'll get more people to come and view these films and to hear the lectures, which are excellent."