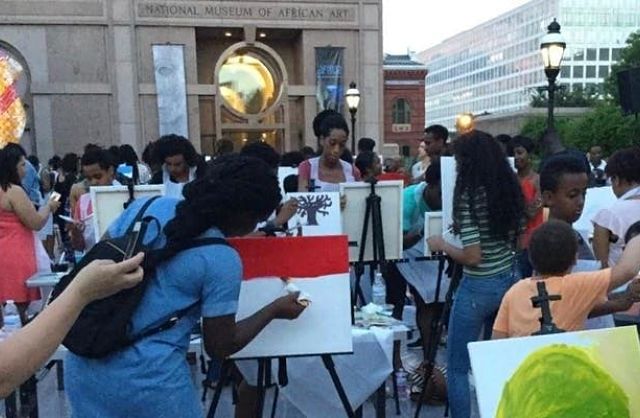 Tadias Magazine
By Tadias Staff
June 13th, 2018
New York (TADIAS) — There's no better way to spend a summer evening outdoors than to paint or learn how to paint while listening to great music. Last year we featured such as an event at the Smithsonian in Washington, D.C. hosted by Beteseb Center and Feedel Band.
For a second year in a row Beteseb Center is once again collaborating with the Smithsonian African Art Museum to organize an "evening of painting and Malian music under the summer skies" on Saturday, June 16th. The theme for this year's gathering is "Africa Beteseb (Family) Portrait Day."
The Beteseb art program was launched by two Ethiopian artists in DC three years ago as an alternative venue for young people in the area to create art while spending quality time and a night out with friends and family.
"Start by getting inspired during a guided tour of World on the Horizon: Swahili Arts Across the Indian Ocean," the Smithsonian announced. "This exhibition particularly highlights the personal, including home architecture and gorgeous articles of adornment. A wide range of fun studio photography demonstrates the cross-cultural influences in Swahili cultures and the incredible diversity of the Indian Ocean region. Then, head out to the Enid A. Haupt Garden to make your very own portrait! Use your portrait to consider questions of identities, nationalities, and how we represent ourselves to the world."
—
If You Go:
Africa Beteseb (Family) Portrait Day
Sat, June 16, 2018
6:00 PM – 10:00 PM
Smithsonian National Museum of African Art
950 Independence Avenue Southwest
Washington, DC 20560
Click here to RSVP
—
Related:
In Pictures: Beteseb Painting Session at Smithsonian in DC — June 2017
More information can be found at facebook.com/BetesebCenter.
Join the conversation on Twitter and Facebook.