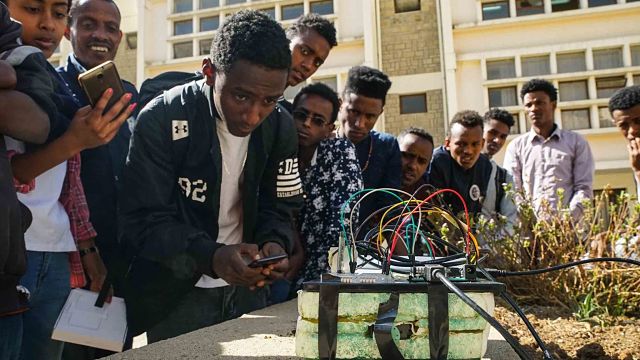 Futurists in Ethiopia are betting on artificial intelligence to drive development
"I don't think Homo sapiens-type people will exist in 10 or 20 years' time," Getnet Assefa, 31, speculates as he gazes into the reconstructed eye sockets of Lucy, one of the oldest and most famous hominid skeletons known, at the National Museum of Ethiopia. "Slowly the biological species will disappear and then we will become a fully synthetic species," Assefa says.
"Perception, memory, emotion, intelligence, dreams—everything that we value now—will not be there," he adds.
Assefa is a computer scientist, a futurist, and a utopian—but a pragmatic one at that. He is founder and chief executive of iCog, the first artificial intelligence (AI) lab in Ethiopia, and a stone's throw from the home of Lucy. iCog Labs launched in 2013 with $50,000 and just four programmers. Today, halfway up an unassuming tower block, dozens of software developers type in silence. Their desks are cluttered with electronic components and dismembered robot body parts, from a soccer-playing bot called Abebe to a miniature robo-Einstein. An earlier prototype of Sophia, a widely recognized humanoid robot developed by Hong Kong-based company Hanson Robotics (she appeared with late-night talk show host Jimmy Fallon last year) is here too. Arguably the world's most famous robot of her kind, Sophia's software was partly developed here in Ethiopia's capital.
In stark contrast to the famine-stricken images that linger in the minds of many Westerners, Addis Ababa has, in recent years, become a hub for international business and diplomacy. Glitzy new office blocks and hotels continue to rise across the sprawling capital, and while Ethiopia is still ranked among the world's poorest countries in terms of GDP per capita, it is also among the fastest growing.
Assefa hopes to place artificial intelligence at the heart of Ethiopia's rapid development, but he receives little backing from the government, which has been encouraging investment in the manufacturing sector. "They think that advanced technologies are a luxury," he sighs, as we sit in the Lucy-themed restaurant next door to the museum. "It's not a luxury, it is crucial."
—
Join the conversation on Twitter and Facebook.